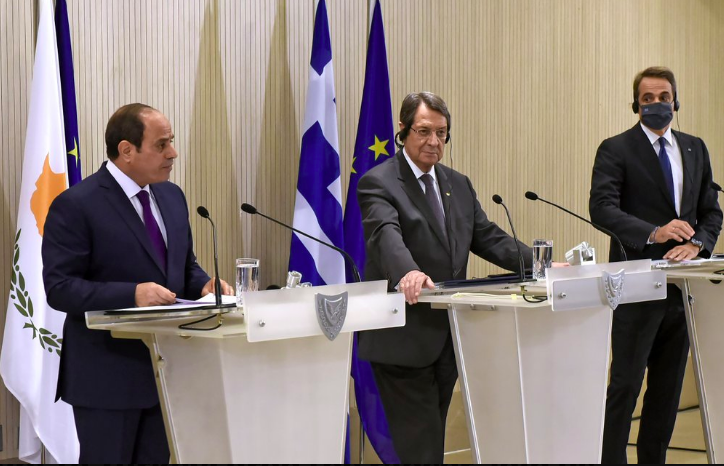 The East Mediterranean Gas Forum, witnessed an exceptional event with the signing of the tripartite memorandum of understanding between Egypt, Israel and the EU to transport gas to Europe using the Egyptian infrastructure and facilities, Petroleum Minister Tarek al-Mulla said.
Mulla stressed the importance of the meeting of ministers of the East Mediterranean Gas Forum, which was held, Wednesday, in Cairo, in the presence of President of the European Commission Ursula von der Leyen.
The tripartite MoU confirms the important role of the Forum in securing energy supplies through effective regional cooperation, especially at this time of geopolitical challenges, Mulla said.
Mulla added – during a press conference  Wednesday with the Israeli Minister of Energy and the Greek Minister of Environment and Energy – that the forum's ministers were honored to meet with President Abdel Fattah al-Sisi after his meeting with von der Leyen, for the second time after the meeting that took place with them in July 2019.
Mulla added that Sisi affirmed his support for the forum's activity and urged the member states to continue to activate cooperation among them to achieve the sustainability of energy resources as a supreme goal of the forum.
Mulla explained that the tripartite memorandum of understanding is an important step by the governments as it paves the way for intensifying cooperation between companies in Egypt, Israel and the EU, and that it serves as an umbrella and framework for companies to work on later in concluding agreements and contracts between each other to implement projects for infrastructure and gas liquefaction.
The MoU reflects the government's support for the expected investments in this regard and facilitates various investment procedures in the projects of transporting and exporting gas to Europe in the presence of a joint government agreement, Mulla said.
The East Mediterranean Gas Forum's work strategy was presented and approved unanimously on Wednesday, Mulla added, stressing that the forum has plans for cooperation in the medium and long terms, and has a plan to reach zero emissions.
Sisi received the ministers of the countries of the East Mediterranean Gas Forum on Wednesday.
He stressed during the meeting that the gas resources inherent in the eastern Mediterranean are a motive for cooperation, peace and development for the benefit of the peoples of the region.