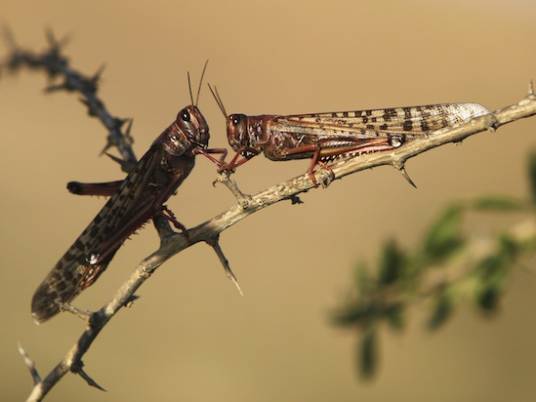 The Egyptian Agriculture Ministry announced on Friday that it has stopped this year's first desert locust attack on the southern border between Egypt and Sudan.
Agriculture Minister Ezz Eddin Abo Setit ordered leadership for the Services and Follow-up Sector and the Central Department to Control Pests monitor and follow locust swarms around the clock in all border areas, and eliminate them immediately.
The locust control bases on the Egyptian-Sudanese border declared a state of emergency in response to the locust attack. Follow-up officials confirmed with the locust base in Abu Ramad that the locust movements had been followed up and dealt with.
The technical bodies to control pests carried out a three-kilometer campaign to counter locust swarms, as they tried to move north from the Halayeb and Abu Ramad border area with Sudan.
The Minister received a report from Services and Follow-up Sector stating that some areas in Egypt have seen winter locust reproduction, specifically in the coastal plains of the Red Sea and its adjacent valleys south of Marsa Alam and up to the latitude 22° territorial boundary between Egypt and Sudan.
The report said that the survey and exploration committees identified areas of rain, greenery and other places where solitary locusts groups appeared, observed separately during November and December.
Ground and air control teams were present in the control and spraying operations.
On January 29, the survey and exploration committees identified a number of sexually mature desert locusts mating and laying eggs in an area of 900 hectares southeast of Abu Ramad, directly on the coast, about 35 kilometers from the Sudanese border, their report said.
Edited translation from Al-Masry Al-Youm