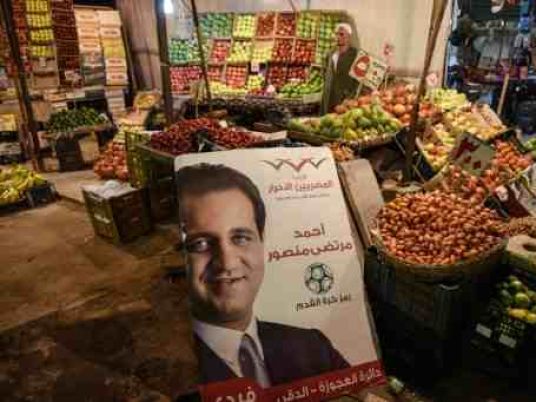 Fireworks erupt at his rallies, his face is plastered across the streets of his Cairo constituency and children wear T-shirts printed with his image.
Ahmed Mortada Mansour, the 34-year-old son of the head of Cairo's Zamalek football club, has gone all out to win votes ahead of parliamentary elections that start in Egypt on Sunday.
Flush with money, Mansour and his pro-market, liberal Free Egyptians Party are mounting an ambitious bid to win support when the country votes for a new 596-member parliament, the first since the previous assembly was dissolved in June 2012.
Voting will be held in two phases ending on December 2.
Newly elected lawmakers are expected to stand firmly behind President Abdel Fattah al-Sisi, who has crushed all opposition since ousting his Islamist predecessor in 2013.
Huge money' behind party
And with Sisi in full control of the country's politics, experts say, economic policy is likely to be the only arena in which the new lawmakers will be able to play.
"Human rights, political reform and so forth — there's not going to be that much appetite for those discussions," said H.A. Hellyer of the Washington-based Brookings Center.
"The exception is likely to be financial and economic policies, as big business interests will play a big role in parliament."
The Free Egyptians Party, founded by telecoms tycoon Naguib Sawiris — who has offered to buy an island off Greece or Italy to shelter people fleeing war-ravaged Syria — has 231 candidates across Egypt's 27 provinces.
Many are former members of the National Democratic Party of longtime ex-leader Hosni Mubarak, which was dissolved after the 2011 uprising that toppled him.
Following a ban on NDP members being lifted, many are returning to politics even as scores of Islamists and other regime opponents face a brutal government crackdown.
"We are a liberal party and we believe in the free market economy," Mohamed Farid, a youth leader of the Free Egyptians, told AFP at the party's headquarters in Cairo's upscale Zamalek neighbourhood.
"We believe that only a free market economy with a vibrant private sector that is backed by political support will eradicate poverty in Egypt."
The party counts leading businessmen among its members like automobile manufacturer Raouf Ghabbour and Sawiris, who runs a multi-billion-dollar telecommunications empire across several Middle Eastern and African countries, plus Korea.
Liberal in Egyptian context
The Free Egyptians are unlikely to criticise government policy directly, experts said, but will push for liberal reforms in an economy that has a long history of heavy state involvement.
"The party has huge money, hundreds of millions of Egyptian pounds," said Hazem Hosny, professor of political science at Cairo University.
"When it talks of being liberal… it is liberal in business. They don't want the state to intervene in anything."
Farid said his party wants to unshackle the economy, for example by scrapping subsidies that it says have slowed economic growth.
"By offering cheap energy we have created high energy consuming industries that are not labour intensive," limiting job growth, he said.
Egypt's economic growth dropped to about two percent in 2011-2012, amid the political turmoil that followed the ouster of Mubarak.
Growth is projected at around four percent this year, but the recovery remains fragile, analysts say, given that inflation and unemployment remain high at 10 and 14 percent respectively.
The International Monetary Fund earlier this month urged Egypt to "create the conditions for the private sector to increase its activity" in order to boost employment, especially among youth.
The government did cut some fuel subsidies in 2014 but came under fire from those benefitting from cheap energy.
Much of its economic efforts have focused on large-scale projects, like the "new Suez Canal" unveiled by Sisi in August that will double the number of ships passing through the crucial waterway by 2023.
"Sawiris is not looking for such mega 'president's projects' that are attractive for foreign investors… but not necessarily right for Egypt," said Hosny.
"It's the small and medium projects" his group will look to support, he said.
But experts said it is unclear how much influence the party will be able to exert, regardless of the vast wealth behind it.
"Sawiris, the big boss, has his own calculations to keep his business running," Hosny said. "He is not going to make the regime angry. He is liberal in an Egyptian context."