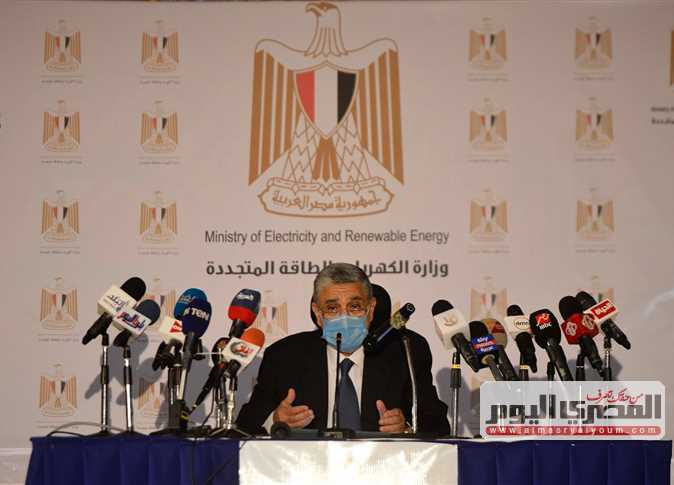 Egyptian Electricity Minister Mohamed Shaker during a press conference on Tuesday announced the annual increases in electricity prices for domestic and commercial consumption for the fiscal year 2020-2021.
Shaker said that the increase in electricity prices for homes amounts to 19.1 percent, a reasonable increase intended to not overburden the country's citizens.
Shaker announced price increases across all levels of consumption, including first and second tiers for low-income people. The following are the percentages of increase for each consumption level compared to last year:
For those who consume between 0 and 50 kilowatts (kW), the price will be 38 piasters per kilowatt instead of 30 piasters. From 51 to 100 kW, the price will be 48 piasters per kW instead of 40 piasters, an increase of 20 percent.
For consumers of between 100 and 200 kW, the price per kilowatt will be 65 piasters instead of 50 piasters, an increase of 30 percent.
From 201 to 350 kW, the price per kilowatt will be 96 piasters instead of 82 piasters, an increase of 16 percent. From 351 to 650 kW, the price of kilowatt will be 128 piasters instead of 100.
The price per kilowatt when consuming more than 1000 kW, remained without increase, at 145 piasters.
Shaker said that those consuming more than 650 kW per month will be completely removed from the government subsidy, which previously happened for consumption of more than 1000 kilowatts. He pointed out that this segment will pay the average cost of electricity production, which is 118 piasters per kilowatt.
Shaker pointed out that by the end of this year, the Egyptian Electricity Transmission Company will finish adding 6,000 km of new transmission lines to raise the efficiency of the power grid and eliminate interruptions caused by voltage drop.
He also announced that Egyptian President Abdel Fattah al-Sisi ordered an extension of the plan to lift the government subsidy on electricity for another three years.
Shaker said that a decision had been made to push back the process of removing subsidies on electricity until 2024-2025, instead of ending the process in 2022. He pointed out that this decision is due to current financial conditions resulting from repercussions of the coronavirus pandemic.
He also said that the government will provide LE 22 billion in support for the industrial sector during the next five years, after fixing the price of electricity for the industrial sector for a period of five years.
Egypt began a plan to rationalize electricity subsidies in 2015, a process that was planned to end in July 2019 with the full cancellation of subsidies.
President Sisi initially extended the plan until July 2021, and now extended it again to 2025 to ease the financial burden on citizens.
In an attempt to revive its economy, which has been faltering since 2011, Egypt obtained an IMF loan in 2016 in exchange for implementing a rigorous reform program, beginning with the floating of the pound.
Egypt began implementing the IMF reform program in November 2016. The international lender made a deal to provide Egypt with a US$12 billion loan in exchange for wide-ranging structural economic reforms.
The reforms include several measures such as devaluing the pound currency, loosening capital controls, ending energy subsidies, reforming public enterprises and overhauling monetary policy – all in a bid to restore economic stability and long-term growth.
Edited translation from Al-Masry Al-Youm