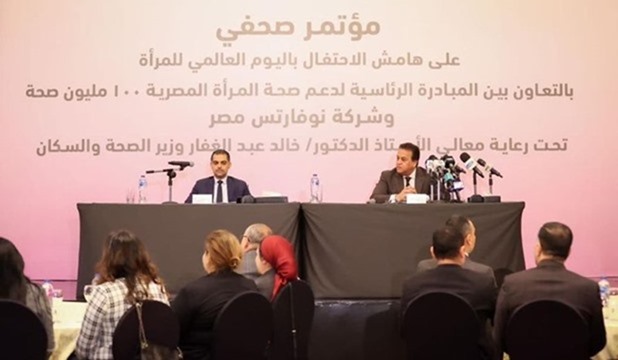 Health Minister Khaled Abdel Ghaffar said on Thursday that 33 million women have been screened as part of the presidential initiative to support women's health.
In a word marking the International Women's Day, the minister said 32,000 people were trained to join the initiative that was launched in 2019 to screen 28 million women over 18 years old nationwide.
He said health services are offered to women under the initiative at 3,500 centers and 102 hospitals.
The initiative is part of the 100 Million Health initiative, which has screened over 60 million people for hepatitis C.
Till 2019, the percentage of Stage 3 and 4 of breast cancer was reported at 70 percent but now it reached 29 percent thanks to the presidential initiative, Abdel Ghaffar said.
Breast cancer is the most common type of cancer in women, registering 33 percent, he added.
The political leadership gives top priority to supporting women's causes, affirmed the health minister.
He also referred to the State's keenness on supporting women at the health and social levels.
The State spares no effort to provide the best medical service to women, he affirmed.
The minister, meanwhile, reviewed the efforts exerted by the Egyptian medical system through the 100 Million Health initiative.
He also commended the role played by the NGOs and the relevant sectors concerned with the women's causes to provide the best health services to women.