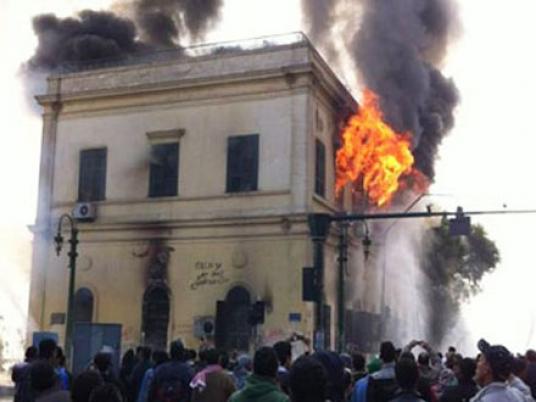 The committee formed by the minister of culture to save historical manuscripts housed at the Egyptian Scientific Institute, which was set ablaze during violent clashes last Saturday, has ordered the evacuation of the building. The committee gave the order on Thursday, fearing the building may collapse at any moment.
The committee stopped evacuating the books, and consulted a contractor to inspect the building, who confirmed that it was near collapse.
Minister of Antiquities Mohamed Ibrahim said he would announce the cost of restoring the building next week. "Some contractors have offered to restore the building for free," he said.
Meanwhile, the Archaeologists Syndicate denounced the torching of the building, and vowed to protect archaeological sites from danger in future.
Saber al-Arab, secretary general of the Dar al-Kotob publishing house, said he had managed to dry a large number of books, documents and publications that were saved from the institute.
The minister of antiquities said the Egyptian Museum would re-open to visitors on Monday.
Translated from Al-Masry Al-Youm