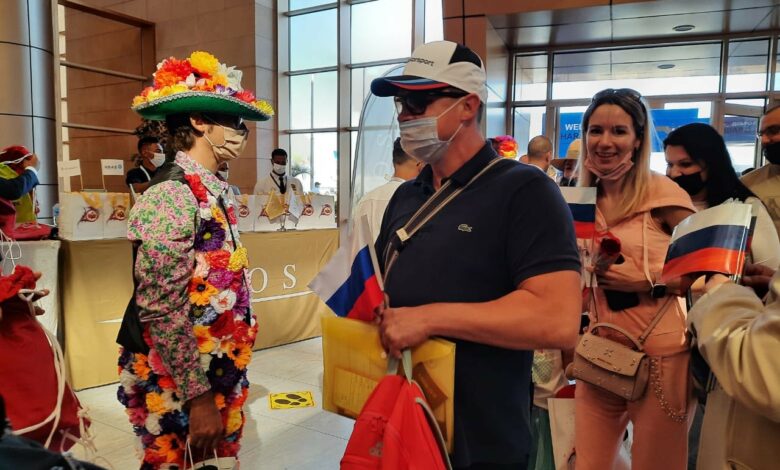 The Egyptian Ambassador to Moscow Ehab Nasr announced that a total of 60 flights will be launched from Russia to Hurghada and Sharm el-Sheikh, 30 flights each starting from Friday.
"We in Egypt warmly welcome the return of Russian tourists to Hurghada and Sharm el-Sheikh, which is very important for residents, entrepreneurs, and trade," Nasr said during statements on Friday.
"We are preparing for the next stage. As of August 27, there will be 30 flights from Moscow to Sharm el-Sheikh and another 30 flights to Hurghada," he added.
Ambassador Nasr indicated that the resumption of regular flights between the two countries will push for the development of relations between Cairo and Moscow.
He stressed the importance of this move towards the economies of both nations, as tourism creates new job opportunities.
Air traffic between the two countries will be daily, he assured.
The Hurghada and Sharm el-Sheikh international airports on Monday received their first direct Russian flights from Moscow after more than six years since the crash of a Russian plane in 2015.
The tourists coming on the first flight in Sharm el-Shaikh on Monday earlier in August were received by the Governor of South Sinai General Khaled Fouda, and Russian Ambassador Borisenko.
Flights between Russia and Egypt had been fully suspended in November 2015 after a passenger plane operated by Russia's Kogalymavia airline traveling from Sharm el-Sheikh to St. Petersburg exploded over the Sinai Peninsula, killing all 217 passengers and seven crewmembers on board. The Russia's Federal Security Service (FSB) qualified the incident as a terror attack.
In January 2018, Russian President Vladimir Putin signed an executive order to resume regular flights to Cairo but charter flights to Egyptian resorts remained suspended.
Over the past few years, Egypt has dramatically improved its system of checks for passengers and luggage, and tremendously improved its airport infrastructure.
On July 8, Putin struck down the order signed in 2015 which banned flights to Egypt's resorts operated by Russian airlines.
Edited translation from MENA