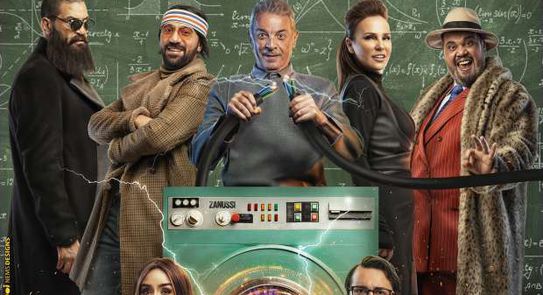 The Egyptian Cinema Industry Chamber on Wednesday sent an official letter urging the Egyptian cabinet to re-institute 9 pm and midnight movie showings, which usually have high ticket sales.
Late-night showings have been suspended due to preventive measures to combat coronavirus.
The chamber also urged the cabinet to increase the 25 percent attendance capacity to 50 percent, to allow movie theaters to achieve profits following their losses amid the coronavirus outbreak and subsequent theater closures from March to July.
Box office revenues have witnessed a remarkable increase, reaching LE2.9 million this week via 3 pm and 6 pm showings of four movies: "al-Ghasala" [The Washer], "Lees Baghdad" [Thief of Baghdad], "El-Felos" [Money], and "Banat Thanawy" [High School Girls].
Al-Gasala, which stars Mahmoud Hamida, Ahmed Hatem, Hana al-Zahed, Mohamad Salam, Bayoumy Fouad, Ahmed Fathy and Taher Abu laila, attained LE2.7 million, increasing total revenues to LE9.2 billion since the movie was first released in July 30.
"Lees of Baghdad," which stars Mohamd Adel Emam, Fathy Abdel Wahab, Amina Khalil, Mohamed Abel Rahman and Salah Abdallah, and is written by Tamer Ibrahim and directed by Ahmed Khaled Mossa, attained LE116,000 in revenues.
"El-Felos," which stars Tamer Hosny, Zina, Khaled al-Sawy, Mohamed Salam and Isha ben Ahmed, and is scripted by Mohamed Abdel Atty and directed by Saed al-Marouq, attained LE139,000 in revenues.
"Banat Thanawy," which stars Gamila Awad, Hanadi Mehanna, Mohamad al-Sharnouby, May al-Ghity, Hoda al-Mufty, Mayan al-Sayed, Mido Adel, Karim Qassem and Mohamad Mahran, and is written by Ayman Salama and directed by Mahmoud Kamel, attained LE5,000 revenues.
Edited translation from Al-Masry Al-Youm