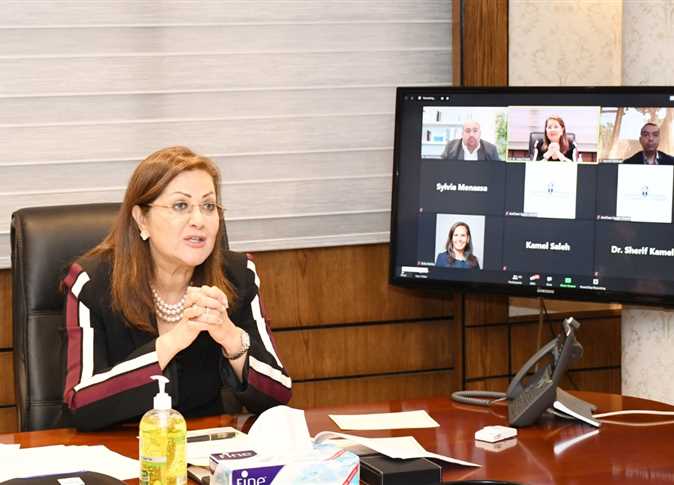 Egypt's GDP is anticipated to grow by 3.5 percent in fiscal year 2020-2021 if the coronavirus crisis ends, Minister of Planning and Economic Development Hala al-Saeed said Tuesday.
Saeed's remarks came during a webinar organized by the American Chamber of Commerce entitled "A new Reality: Paving the Way Forward Post COVID-19".
The minister explained that this 3.5 percent growth rate for 2020/2021 is expected to come instead of the previous pre-coronavirus projection of 5.8 percent.
Unemployment rates are also projected to increase by 2.3 percent to reach 10.3 percent in 2020 compared to the pre-coronavirus projection of eight percent.
Had this crisis occurred in 2016 prior to the start of Egypt's economic reform program, Saeed said the Egyptian economy would have come under extreme stress. She explained that Egypt has had time to significantly strengthen its economic position against this global health crisis thanks to its economic reform program.
The government's objectives in its economic measures is to mitigate the virus's impact on vulnerable groups, she added.
Saeed said that LE100 billion has been allocated under a comprehensive crisis plan to support economic activity, raise purchasing power and boost domestic demand.
The government intends to increase health sector investments by 42 percent, education sector investments by 81 percent, transportation and roads investments by 90 percent, and drinking water and sanitation investments by 78 percent.
There will also be a significant 300 percent increase in digitization and telecommunications investments.
Saeed announced that total public infrastructure investments over the past seven years stands at LE1.5 trillion. The Egyptian government has, in the past five years, successfully implemented 4,253 infrastructure projects at a total cost of two trillion LE.
The government allocated LE2.6 billion in investments between July 2019 and March 2020, with LE10 billion allocated as public investments in telecommunications and digitization as part of the plan for 2020/2021.
This is in addition to the eight billion LE that will be mobilized for the "Hayat Karema" (Decent Life) initiative covering over 500 villages.
Regarding Egypt's pre-crisis economic indicators, Saeed said the country achieved a 5.6 percent GDP growth rate in 2019/2020, with a 24 percent decrease in non-oil trade imports.