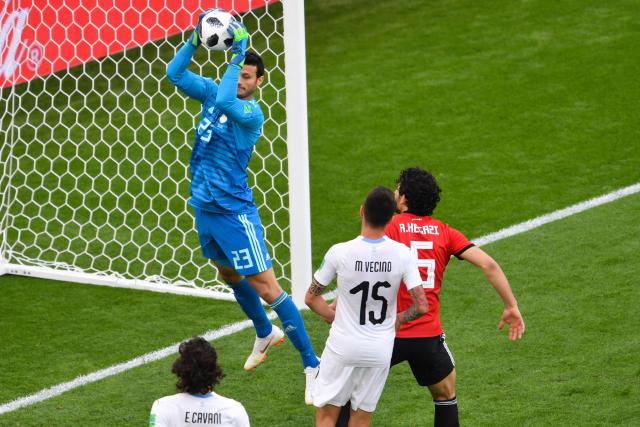 Egyptian Goalkeeper Mohamed al-Shenawy turned down the "Man of the Match" prize following the football game between Egypt against Uruguay (0-1) in the World Cup Russia 2018 on Friday as he discovered the prize's sponsor is alcohol company Budweiser, which contradicts his Muslim beliefs.
Shenawy noticed the prize contains a bottle of beer and decided to only take photos of him with the prize following the announcement, in spite of attempts by the team's manager Ehab Leheta to persuade Shwenawy into receiving the prize.
Leheta and the substitute keeper Sherif Ekrami met with Shenawy after the Egyptian team reached Grozny City, trying to persuade him to take over the prize which is "historic" and suggested that he can remove the bottle of beer from the prize.
The goalkeeper told Al-Masry Al-Youm that he refused the prize because of personal reasons and he is concerned of keeping on his outstanding performance in the world cup's next games.
"We will do our best in the next two games and will hopefully make the Egyptian fans happy within the match against Russia. We own all possibilities which push us to compete for qualification to the second round. I hope for a bit more luck in the next two games," he said.
Edited translation from Al-Masry Al-Youm