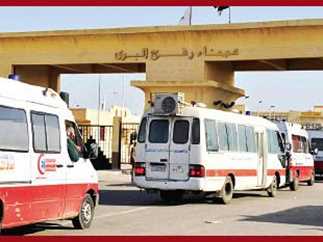 The Embassy of the State of Palestine in Cairo confirmed the continued transfer of wounded protesters, shot by Israeli occupation forces, from the Gaza Strip to hospitals in Cairo.
Transferred Palestinians has been receiving treatment over the past few days in Egyptian hospitals in Arish, Ismailia and Cairo governorates.
The embassy said in a statement that the wounded are being transferred through the Rafah land crossing, where a medical team, headed by Dr. Araby Mohamed, undersecretary of the Egyptian Ministry of Health, receive all the coming cases before being transferred in ambulances to different hospitals.
Each injured is allowed to be accompanied by one person. The injured started receiving treatment since last week at Arish General Hospital and some were recently transferred to Nasser Institute Hospital in Cairo, the statement said.
"Israeli troops killed dozens of Palestinians on Monday who protested on the Gaza border as the United States opened its embassy in Jerusalem, moving its diplomatic mission in Israel to the contested holy city from Tel Aviv," Reuters reported.
Egyptian President Abdel Fattah al-Sisi ordered on Thursday the opening of Rafah border crossing with the Gaza Strip throughout the month of Ramadan.
Egypt closes the Rafah crossing for long periods and opens it on occasions for a few days.
The crossing has been closed due to "attacks on Egyptian security forces in the Sinai Peninsula that increased in 2013, with Egyptian officials blaming Palestinian militants from Gaza for some of them," according to Reuters.
Edited translation from Al-Masry Al-Youm