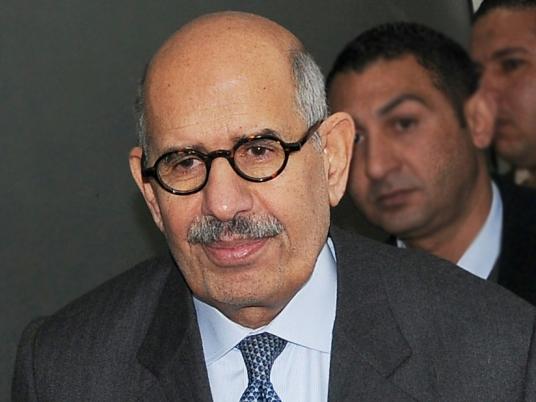 Longtime reform advocate Mohamed ElBaradei has called for the formation of a three-member presidential council to write the new constitution.
The council members could be elected by Parliament and form a national salvation government, or, alternatively, an interim president could be elected for one year, ElBaradei said Saturday during an interview with the privately owned satellite channel CBC.
The Constituent Assembly should stipulate the holding of parliamentary and presidential elections after one year, ElBaradei said, adding that the media should adopt this idea and thus correct mistakes made by the ruling military council.
The runoff election is set to take place on 16 and 17 June between presidential candidates Mohamed Morsy, the Muslim Brotherhood nominee, and Ahmed Shafiq, a former general who served as Hosni Mubarak's last prime minister.
The results of the election's first round have led to controversy, and demonstrators have protested over the past week to demand the formation of a presidential council.
Amid preparations for the runoff, political groups agreed on Thursday on the standards of membership for the constitution-writing committee.
He said he would not participate in the current election so as not to add legitimacy to it, adding that both candidates had tried to contact him through mediators.
"If the door is reopened for nominations, I will not [run]," ElBaradei said, in reference to the possibility that the elections are cancelled if the Political Isolation Law is put into effect. "I decided to work alongside Egyptians in fields of human rights and others. I'll be more effective from outside the institutional frame."
ElBaradei said he would meet with the Brotherhood if the group requested, but that he wouldn't meet with Shafiq.
ElBaradei said he rejects demands for revolutionary trials for Mubarak and members of his regime, saying this doesn't conform to principles of justice that the revolution had called for.
Edited translation from Al-Masry Al-Youm