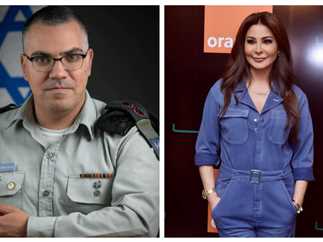 Avichay Adraee, Spokesperson for the Israel Defense Forces, wished renowned Lebanese singer Elissa a happy birthday on his Twitter account, despite being formerly blocked by her official account.
Adraee published a video of an Israeli soldier in military uniform listening to Elissa's song Betmoun.
He commented on the video: "Happy birthday Elissa, which you celebrated earlier this week. We just want to celebrate it in our special way."
He added in Lebanese dialect, "I hope you like this surprise, which contains one of your best songs. Hopefully, the voice of art and culture in Lebanon unite against Hezbollah's terrorism."
Elissa shared news talking about the incident to her account, commenting, "A shameless occupier."
Elissa blocked the Israeli army official earlier when Palestine was subjected to several Israeli raids. At the time Elissa commented on the events, saying, "The land of Palestine is slowly shrinking while we are watching, what kind of law allows turning this land from the land of peace to the land of wars?"
"Yes, Hamas is responsible for this painful situation," Adraee responded to her Tweet, adding, "The pictures of the house in the Israeli town, which was attacked by Hamas' terrorist rocket, are clear evidence of the aggression and ugliness of this movement, which is pushing the people of the Gaza Strip towards more violence."
"This impudence can be only answered with a block," she said, launching a hashtag #shameless_occupier at the time.
Edited translation from Al-Masry Al-Youm