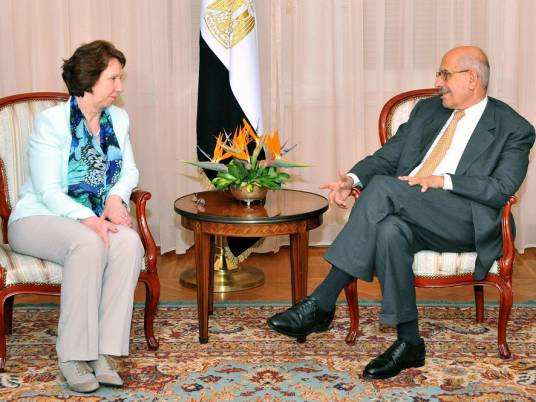 Visiting EU foreign policy chief Catherine Ashton on Wednesday urged Egypt's interim leaders to free Mohamed Morsy, as supporters of the ousted Islamist president rallied against the new government.
Speaking in Amman, US Secretary of State John Kerry said it was "much too early" to judge the future course of the Arab world's most populous nation and key Washington ally.
But he said the 34-member caretaker cabinet, sworn in a day earlier and headed by former finance minister Hazem al-Beblawy, was comprised of "extremely competent people".
The new administration faces a raft of challenges, including restoring security and overcoming deep divisions illustrated by Wednesday's pro-Morsy protests in central Cairo.
Several thousand people gathered near the cabinet headquarters, shouting anti-government slogans.
They marched peacefully in the direction of Cairo University, across the Nile, carrying banners that read: "Retaliation for the martyrs" and "Down with military rule".
Ashton held talks with Egypt's new leaders, members of the grass-roots anti-Morsy movement Tamarod and officials from the Freedom and Justice Party, the political wing of Morsy's Muslim Brotherhood.
But the EU's top diplomat was not able to meet Morsy himself. He has been held in custody since the military overthrew him on July 3 after massive nationwide protests against his rule.
"I believe he should be released," Ashton told reporters. "I was assured he is well. I would have liked to see him."
US Deputy Secretary of State William Burns, who visited Cairo on Monday and Tuesday did not meet Brotherhood representatives and was snubbed by Tamarod.
Of Wednesday's meeting with Ashton, senior FJP official Amr Darrag told the state MENA news agency: "The delegation didn't come to ask the EU anything, the meeting took place at Ashton's request."
Ashton told Egypt's interim leaders that the EU wanted "a quick return to the democratic process, and a full, inclusive process," her spokesman Michael Mann told AFP.
She also stressed "the need to get the economy going as quickly as possible" in a country where a quarter of the population lives below the poverty line.
In Jordan, Kerry made much the same point.
"Very clearly, order needs to be restored, stability needs to be restored, rights need to be protected… and the country needs to be able to return to normal business," he said.
Washington has pointedly refrained from saying Morsy was the victim of a coup, which would legally require a freeze on some $1.5 billion (1.14 billion euros) in US military and economic aid to Cairo.
Morsy's removal had arisen out of an "extremely complex and difficult situation", Kerry said.
"I will say this: That what complicates it, obviously, is that you had an extraordinary situation in Egypt of life and death, of the potential of civil war and enormous violence, and you now have a constitutional process proceeding forward very rapidly.
"So we have to measure all of those facts against the law, and that's exactly what we will do."
He also said: "We are concerned about political arrests."
The Brotherhood, the influential movement from which Morsy hails, along with the ultra-conservative Al-Nour party, refused to take part in the new administration.
A Brotherhood spokesman has also rejected the new cabinet as illegitimate.
There was fresh violence in the Sinai peninsula overnight, when gunmen killed three police officers in three separate incidents. The peninsula has suffered a wave of attacks in recent weeks.
Tuesday's swearing-in of the caretaker cabinet came just hours after overnight clashes between the security forces and Morsy supporters in Cairo in which seven people were killed and more than 260 wounded.
Hundreds of protesters were also arrested, bringing to more than 1,000 the number of Morsy supporters detained in Cairo alone since the coup.
The Brotherhood's deputy leader Khairat El-Shater and several other senior Islamists have been remanded in custody for 15 days, judicial sources said Wednesday.
Many of those arrested have since been released. But Amnesty International said some detainees had been beaten, subjected to electric shocks or hit with rifle butts.
During his year in power, Morsy was accused of concentrating power in Brotherhood hands, sending the economy into free fall and failing to protect minorities.
His supporters say his overthrow was an affront to democracy.