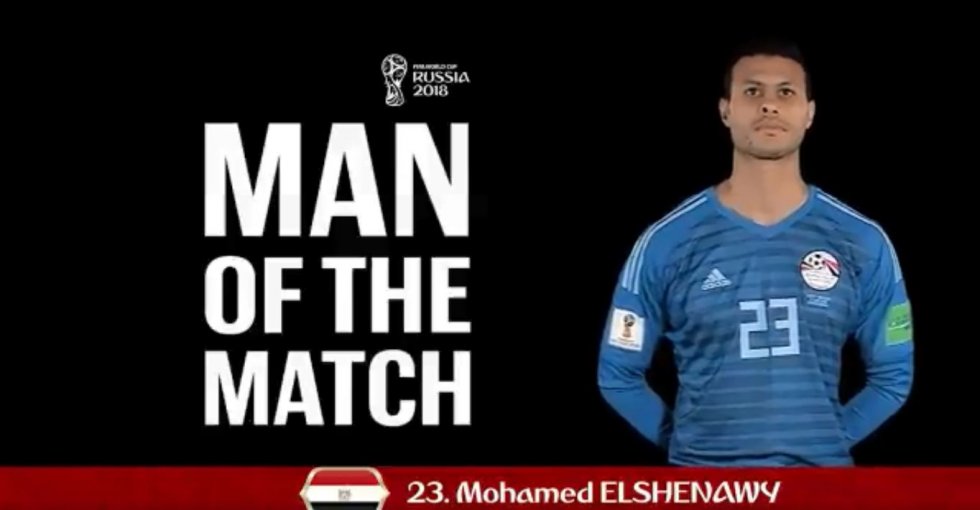 International Federation of Association Football (FIFA) decided to change the protocol of "Man of the Match" award following Egyptian goalkeeper's Mohamed Al-Shenawy's refusal to accept it for being sponsored by Budweiser, a brewing company.
FIFA deleted Budweiser logo from Shenawy's banner, leaving only his name, photo and country of origin.
Egyptian Goalkeeper Mohamed al-Shenawy turned down the "Man of the Match" prize following the football game between Egypt against Uruguay (0-1) in the World Cup Russia 2018 last Friday as he discovered the prize's sponsor is alcohol company Budweiser, which contradicts his Muslim beliefs.
Shenawy noticed the prize contains a bottle of beer and decided to only take photos of him with the prize following the announcement, in spite of attempts by the team's manager Ehab Leheta to persuade Sheenawy into receiving the prize.
Leheta and the substitute keeper Sherif Ekrami met with Shenawy after the Egyptian team reached Grozny City, trying to also persuade him to take over the prize which is "historic".
The goalkeeper told Al-Masry Al-Youm that he refused the prize because of personal reasons.
Shenawy is the first Egyptian in history to be awarded "Man of the Match" in the World Cup.
Since Shenawy's refusal to accept the prize, FIFA, not only made an exception for him but for any Muslim player who wins the award.
This new rule was also applied to Moroccan Amin Harit, who won the title during his team's match against Iran.Egypt lost all of its matches in the World Cup so far, after progressing to the tournament for the first time since 1990. Egypt faced a difficult defeat against Uruguay after an amazing performance, but was thrashed against Russia 3-1, with a late Salah goal failing to save the team from the loss. Egypt is expected to play its final Group A match against Saudi Arabia on Monday. The team has a slim to non chance to progressing to the next World Cup round.