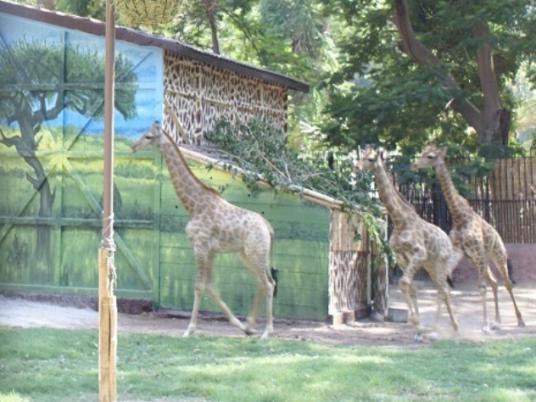 The Giza Zoo received three new giraffes from South Africa on Sunday. The animals arrived through the zoo's upper gate on a big flatbed truck in three big crates in the early afternoon yesterday, while zoo employees buzzed around with excitement.
Animal welfare advocate Dina Zulfikar, the co-founder of the Animal Welfare Awareness Research group, said it has been years since the zoo had giraffes. The old giraffes died, she said, one of them apparently while in labor.
"Giraffes are very sensitive," Zulfikar said.
She said it took the zoo this long to replace the giraffes because it's illegal for zoo animals to come from the wild. They must be bred in captivity, and they must also come from geographical areas that are free of disease.
After the animals arrived, the area was closed to the public, including journalists. No interviews were made available to the press as the animals arrived, and zoo management requested that no pictures be taken of the new giraffes, or their enclosure area.
Dr. Fatima Tamam, president of the central administration for zoos, said journalists must first get permission to interview her from Dr. Osama Selim, the chairman of the General Organization for Veterinary Services under the Agriculture Ministry.
Zulfikar said the zoo has been eager to replace different species that it has been missing, including the giraffes. She said the zoo is also planning to get more elephants because the ones it has now are very old.
But she said she thinks the zoo should prioritize public education and improving its current facilities, rather than acquiring new species.
"The zoo is not functioning up to now as an educational and conservation center," she said. "They are not providing proper living environments for the animals."
Zulfikar said the bear and chimpanzee enclosures are both in need of drastic improvements.
"My point of view as an animal protection advocate is, maintain what you have, then you can add new species," she said.
Zulfikar is not alone in her criticism. The zoo has been heavily criticized in international media in recent years for its treatment of the animals and their poor living conditions.
However, the zoo said it is forming a committee that would work with experts to develop the zoo according to international standards set by the World Association for Zoos and Aquariums, the zoo website said. A 2008 Reuters story said the Giza Zoo had been excluded from the association in 2004.
A zoo employee said the Giza Zoo would announce the arrival of the new giraffes on its website Monday, and that journalists would be welcome later in the week, after the new animals have had a chance to adapt to their new environment.