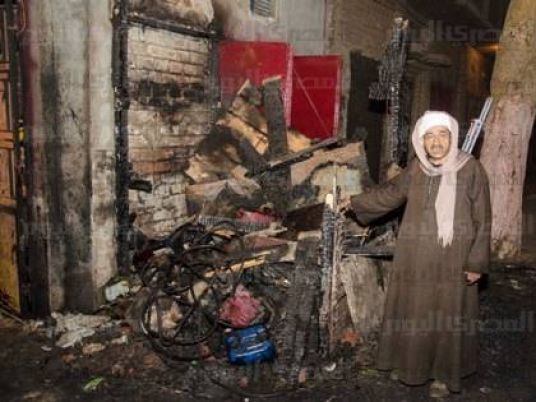 Five more suspects have been arrested in connection with an outbreak of sectarian violence last Friday in the Minya village of Karam Abu Omair, making a total of 10 suspects arrested in connection with the incident.
According to an Interior Ministry statement, the new arrests were made on Thursday evening, while more suspects are still being sought by security forces.
Among those arrested so far is Nazir Eshaq Ahmed Abdel Hafez, who was allegedly responsible for an attack on an elderly Christian woman, said the ministry statement.
The village of Karam Abu Omair errupted into violence last week, after a mob of Muslim residents attacked the homes of several Coptic Christians, setting fire to them and allegedly stripping an elderly woman naked. The violence was sparked by rumours that the woman's son had been having an affair with a married Muslim woman from the area.
The incident was made worse, say Christians residents, by the fact that security forces took two hours to respond to the violence, by which time seven buildings — both Muslim and Christian — had been gutted by fire.
Responding to the incident, the president's office issued a statement on Thursday saying it was following developments closely and seeking to ensure an appropriate response.
"President Abdel Fattah al-Sisi issued directives for all concerned bodies in the country to take the necessary measures to maintain public order and protect the lives of citizens and property under the rule of law, and to prosecute the perpetrators in this incident," read the statement.
It added that the state would bear the cost of repairs to those properties destroyed in the clashes, asserting that all repairs would be concluded within one month, with the help of the armed forces.
Al-Azhar also issued a statement on Thursday denouncing the attack on the elderly Christian woman, during which she was stripped of her clothes.
The Islamic institution said it rejected "all forms of humiliation and abuse, regardless of the religious beliefs of the aggressor and the victim and whatever the reason for the attack."
The statement expressed confidence that the authorities concerned would carry out their duties properly regarding the incident.