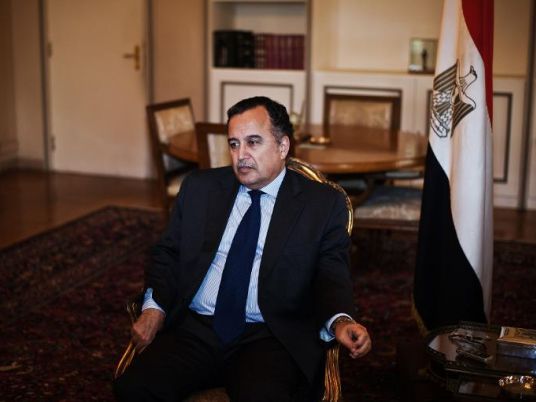 Foreign Minister Nabil Fahmy left Cairo on Sunday for a European tour of Italy, Germany and Netherlands. He will meet with officials to discuss how to boost bilateral relations as well as several regional and international issues.
"Egypt's foreign policy toward Africa, the Arab World and Asia is clear. However, it is time to hold direct talks with European authorities and those able to make political decisions at their countries. That is why Interim President Adly Mansour began his foreign visits with Greece, being head of the European Union since January," Fahmy said before leaving from the Cairo International Airport.
"The European tour to Italy, Germany and Netherlands is for the same purpose. The first goal of the visit is to handle pivotal Egyptian-European issues. The second is to discuss joint regional issues like the situation in Syria, peace processes in the Middle East, Nile water and Europe's role in these issues and cooperation around the Mediterranean. The third and primary goal of Egyptian foreign policy is to explain developments in achieving the roadmap, the Constitution and the new political situation following the revolution," he added.
Fahmy said he will explain amendments to the roadmap given the importance of Egypt internationally and in the Middle East, adding that it is important that foreigners focus on stability in Egypt. "Regarding social mobility in Egypt, I will explain it due to the importance of our country to others. It is not an issue that is up for discussion, however, as the Egyptian people are the decision owners of local issues," he added.
Regarding the return of the Egyptian diplomatic mission to Libya, Fahmy said, "It will certainly return but after discussing security arrangements. The Libyan government has given reassurance over its commitment to care for Egyptians, especially diplomatic representatives."
When asked about Turkey, Fahmy said that the Egyptian ambassador's return to Turkey was a reflection of Egypt's political stance. He explained that when Egypt's stance changes, the Egyptian ambassador would return to Turkey and the Turkish ambassador would be allowed to come back to Egypt.
Edited translation from MENA