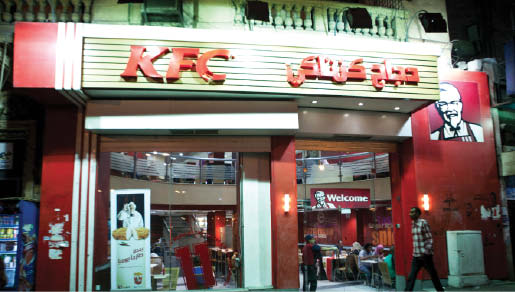 Egyptian shoppers are likely to see even more big-name brands gracing their malls and shopping centers in the coming years, as international and domestic franchises continue to spread during the country's current economic slowdown.
The franchise sector has been on the rise for the last 15 years. According to the Egyptian Franchise Development Association (EFDA), the franchise sector grew from 25 international brands in 1999 to 360 in 2010 and 430 in 2012. This means that approximately three new franchises have opened in Egypt every month since the 25 January revolution
. And it looks like it will continue to grow, experts say.
"Big opportunities remain," says Hatem Zaki, executive board member at the association.
The sector provides approximately 55,000 jobs, and attracted roughly LE22.5 billion of direct investment last year. And experts say that even these figures are probably on the low side as more franchise branches are opening monthly, even weekly.
Though more franchises means more economic activity and domestic investment for a cash-strapped country in the short term, the long-term effects of depositing brand-name multi-national chains stores and restaurants in Egypt's shopping centers and malls are unclear, experts say.
'Guarantee of quality'
Zaki says that Egyptian investors often feel more confident opening a store under the umbrella of a large, multi-national corporation.
"Egypt is filled with unused funds," he says. "Individual investors or banks sit on their money because they are scared to invest."
But the strict quality standards issued by the mother company that most franchises have to respect can mitigate some risk.
"They feel secure with franchises because it provides them with a guarantee of quality," he says.
Franchises also allow relatively inexperienced investors to start a business with a built-in reputation and high degree of visibility.
"When you buy a franchise, you buy a package that has already proven its worth: accounting, marketing, etc.," Zaki says. "You do not have to create everything from scratch."
The consistent quality levels could partly explain why the franchising sector resisted the current crisis. Zaki believes the organizational systems and experience that franchises can tap into makes them more efficient and more resilient.
Transferring knowledge
The two most frequently cited benefits of franchises are job creation and injecting new skills into an economy.
"Franchises are a fast and reliable way of creating jobs," Zaki says.
According to EFDA, more than half a million jobs were created in franchise supply chains. Many Egyptian companies that have worked with Egyptian franchises have been able to expand their activities abroad.
In 2010, around 56 percent of franchises were foreign. While American franchises were the first to appear, 90 percent of newer franchises have come either from Europe or from the Gulf since 2005.
There are also franchise operators such as the Kuwaiti Alshaya, which brings international brands, many American and British, to new markets in the Middle East and North Africa.
In Egypt, the Alshaya Retail Company manages franchises such as the clothing store H&M and Starbucks.
Franchise development has benefitted the whole supply chain, Zaki says, by upping the bar for local and international shops and restaurants.
"Franchises are the easiest way to transfer knowledge and foreign know-how in the country," he says.
They also naturally bring new concepts into the market, since mother companies usually provide the franchisee with their latest products and services. Franchise proponents say this know-how benefits the whole economy as employees from franchises continue their careers or start their own businesses.
Growth opportunities
And it seems that franchises have plenty of room to expand in Egypt. On Monday, the vegetarian fast-food restaurant Just Falafel announced on its Facebook page that it would now be offering franchises in Egypt. The chain already has locations in the UAE, Oman, Qatar, Lebanon, Jordan, Saudi Arabia, and the UK.
Most of the franchises currently operating in the country target the upper and upper-middle classes, Zaki says, which means many opportunities exist for those offering services and products in lower price ranges.
One to three star hotels, small and medium-sized grocery chains, education, maintenance and health services are among the underdeveloped sectors, he says. Currently, retail and food brands represent almost three out of every four franchises.
"But opportunities remain even in those sectors, as they are mostly concentrated in big urban areas such as Cairo and Alexandria," Zaki says.
Most governorates remain underserved. Zaki wants to organize tradeshows in tourist cities such as Sharm el-Sheikh and Hurghada to encourage franchisers to expand into relatively untapped markets.
The franchise model is also being adopted by local companies. The EFDA has counted around 768 "acting-like franchises," whose operators say they eventually hope to convert to a franchise system. Of them, around 200 are actually taking steps toward this goal. These companies attracted almost LE20 billion in investments last year.
And, of course, there are Egyptian companies with well-established franchises of their own. The home-grown café Cilantro offers franchises, with locations in London and Jeddah.
According to Zaki, franchises could help provide a steady form of domestic investment.
Looking long-term
However, some worry about the lasting effects of the franchise sector on the global economy. Critics say franchises are a subtle way for foreign multinationals to conquer markets at a lesser risk.
Amélie Canonne is the co-president of the International Association of Technicians, Experts and Researchers, which researches economic and social issues in the interaction between North and South countries.
According to her, the franchising system has a limited effect on the long-term development of the country, and raises many problems, including multinational companies controlling the domestic market.
Franchising in Egypt, Canonne says, is characterized by a legal vacuum that often benefits multinational franchisers. This lack of proper legal restraint for international companies operating here allows the franchiser to impose strict rules on the franchisee.
"Technology transfers to the rest of the economy are limited because the franchiser imposes strict non-competition clauses for decades," Canonne explains.
Zaki also said that franchisers often require their partners opening branches to import their supplies from abroad, which lessens the positive effect on the local economy.
And while companies with foreign franchises normally receive comfortable royalties each year, they do not pay any tax on it since the status of franchising is not formally recognized by the law. As a result, foreign franchisers draw important benefits from a foreign market, like Egypt, without having invested or paid a dime of tax.
According to Zaki, the investment from the franchisee exceeds the royalties and profits taken by the company, so the overall impact on the economy remains positive. In addition, Canonne says franchises often establish unfair competition with local competitors.
Franchises benefit from a better "cultural" image and can afford to use dumping, the practice of flooding the local market with a high quantity of goods, or very low-priced goods, to exhaust the resources of competitors.
According to her, franchises are often presented as small and medium sized enterprises and attract funding from banks and international funds as part of small business support plans. In reality, many franchises are owned by international holdings companies or multi-millionaires, Canonne says, and as a result, they can sometimes divert badly needed funding from deserving small enterprises.
This piece was originally published in Egypt Independent's weekly print edition.