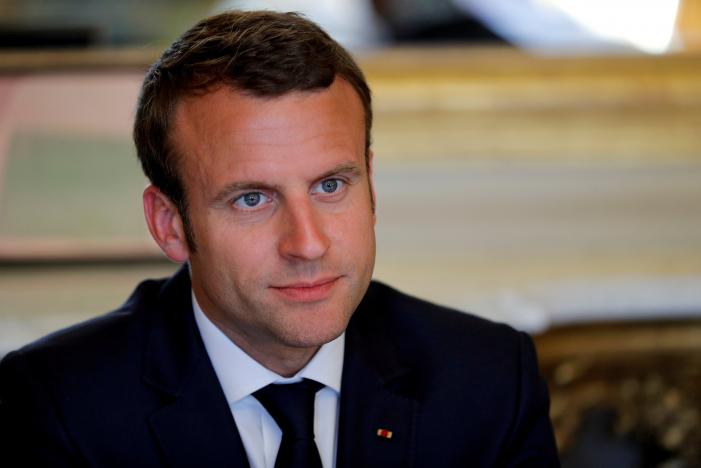 French President Emmanuel Macron arrived in Qatar on Thursday for a one-day trip to the country amid a boycott of Doha by four Arab nations.
Macron landed and immediately traveled to the vast al-Udeid Air Base, home to some 10,000 American troops and the forward headquarters of the US military's Central Command. France also has a contingent of soldiers at the base, which is crucial to the ongoing fight against the Islamic State group in Iraq and Syria and to the war in Afghanistan.
Macron smiled and shook hands with the French and American soldiers who greeted him at the base before walking into a meeting with the base's top commanders. The French president later will hold talks with Qatar's ruling emir, Sheikh Tamim bin Hamad Al Thani.
Macron's visit comes just after a planned two-day Gulf Cooperation Council meeting collapsed in just a few hours over the ongoing Qatar diplomatic crisis.
Bahrain, Egypt, Saudi Arabia and the United Arab Emirates began their boycott in June over allegations that Doha supports extremists and has too-close relations with Iran.
Qatar has long denied supporting extremists and shares a massive offshore natural gas field with Tehran.
Also likely to come up during his visit is President Donald Trump's announcement that America recognizes Jerusalem as the capital of Israel. Israel claims all of Jerusalem as its capital, while the Palestinians claim the city's eastern sector, captured by Israel in the 1967 Mideast war, as the capital of a future independent state. These rival claims lie at the heart of the decades-long Israeli-Palestinian conflict.
Before Macron's arrival, Sheikh Tamim held calls with Palestinian President Mahmoud Abbas, Jordan's King Abdullah II, Turkish President Recep Tayyip Erdogan and Trump.