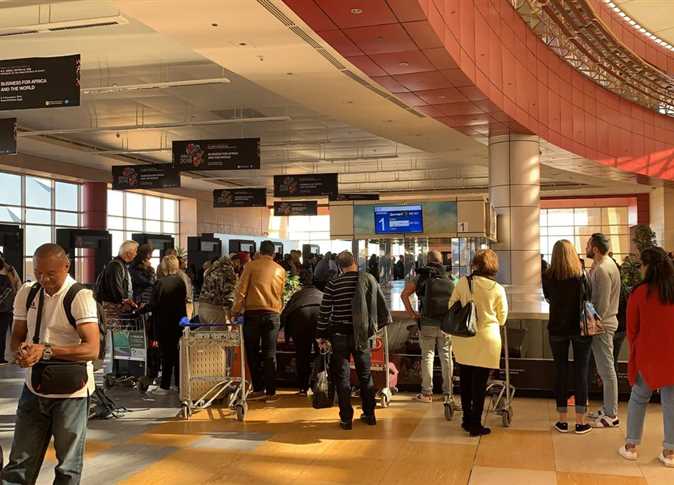 German ambassador to Cairo Cyrill Nunn praised the resumption of Cairo-Dusseldorf flights during a meeting with Egypt's Civil Aviation Minister Mohamed Manar on Wednesday.
Manar received the German ambassador to Cairo and an accompanying delegation to discuss bilateral relations in the field of civil aviation.
Nunn pointed to the importance of new Egyptian airports and their role in facilitating access to nearby tourist and archaeological sites, praising the decision of the Ministry of Aviation to relaunch EgyptAir Cairo-Dusseldorf flights and increase the number of Cairo-Berlin flights during the 2020 summer season.
Nunn said that Egypt is an attractive tourist destination for many German tourists, especially the Red Sea resorts cities of Sharm el-Sheikh and Hurghada.
For his part, Manar said that relations between the two countries are witnessing significant developments on the commercial and economic levels, adding that the Ministry of Aviation will continue to work to improve services provided to passengers and travelers through Egyptian airports.
Germany removed the last restriction on flights to and from Sharm el-Sheikh and other areas in Egypt's southern Sinai Peninsula in January 2017, with the Federal Ministry of Transport in Germany issuing an announcement exempting German airliners from the notice to not fly below 26,000 feet when passing over the northern region of the Sinai Peninsula.
Several countries, including Germany, suspended flights to Egypt after the 2015 bombing of a Russian passenger plane in the Sinai Peninsula shortly after take-off, killing all 224 people on board. On December 19, 2019, the first UK flight to Sharm el-Sheikh since the country's ban landed at Sharm El-Sheikh International airport, following a four-year hiatus.
On Monday, a Russian security delegation charged with conducting an inspection tour of Egypt's Hurghada International Airport praised the beefed-up security measures taken in Terminal 2, which included the installation of a new CTX, or a computer tomography x-ray, which functions as an explosive detection device.
The additions to the terminal were requested by foreign inspection committees that previously visited the airport, and the Russian delegation's tour is part of the process for the resumption of regular charter flights from Russia to Egypt's Red Sea resorts.
Russia's Federal Security Service (FSB) designated the 2015 incident as a terrorist attack and the country also suspended flights to Egypt, but in 2018, Russia's largest airliner Aeroflot resumed flights to Cairo.
Earlier this January, low-cost airline EasyJet also announced that it would resume flights between the UK and Egypt's Sharm el-Sheikh in June 2020.
Edited translation from Al-Masry Al-Youm