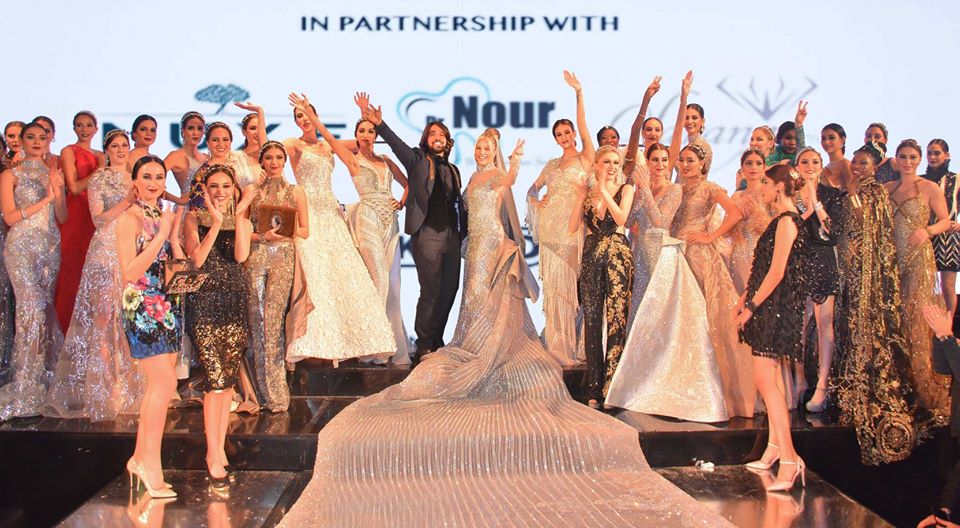 Famed designer Hany El Behairy has become the first Egyptian to participate in the Oriental Fashion Show at the Carrousel du Louvre in Paris, which was held on Monday, January 20 and entitled "The Wonders of the Silk Road."
There, Behairy showcased his latest designs alongside renowned fashion designers like Eli Saab, Zuhair Mourad, and Valentino, among others.
Behairy, who is best known for his jaw-dropping gowns, joined the fashion show with a collection complete with pearls, diamonds and other sparkly ornaments adorning numerous jumpsuits and dresses.
The Oriental Fashion Show, launched in 2004, is designed to showcase oriental-style couture in shows across the world.
In this year's edition in Paris, around 20 fashion designers joined the event, including those from Egypt, Saudi Arabia, Lebanon, Kuwait and Morocco.
During the show, Behairy impressed audiences with a diamond-studded wedding gown, modeled by Egyptian actress Mai Omar. In 2017, actress Yosra El-Lozy walked the runway of a Behairy show wearing another diamond-embellished gown estimated to cost US$4 million.
Behairy, who launched his career in fashion when he was just 15 years old, has claimed a number of awards, including Best Fashion Designer in Egypt (2001), Best Fashion Designer in Cairo Cinema Festival (2009), Best Fashion Designer in the Arab World (2005), and Best Fashion Designer in Alexandria Cinema Festival (2014), among others.
The designer has taken part in dozens of fashion show across the world, such as the Mediterranean Festival in Napoli, in which he received the award for the Best Fashion Designer of 2006, along with the "Moda Week" festival in Italy and the "LUX Festival" in Lebanon, where he was also named "Best Fashion Designer."
Moreover Behairy was honored by the Italian Ministry of Culture as well as the Mayor of Rome in 2006.
Numerous celebrities have worn designs from Behairy Haute Couture, including Yousra, Laila Elwy, Warda Al Gazaeria, Elham Shahin, Safaa Abu El Seoud, Latifa, Hanan Tork, Dalia El Behairy, Sabah, Ghada Abdel Razek, Shaimaa Saeed, and Poussu Shalaby.
Photo credit: Hany ELBehairy's Facebook page