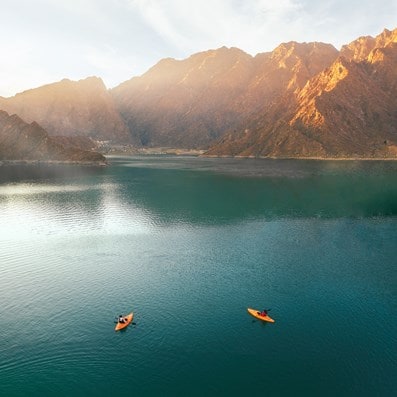 There's more to Dubai than just shopping malls and the dazzling nightlife.
Take Hatta, for example – an exclave of the Dubai emirate nestled in the Hajar majestic mountains, roughly 134 kilometers away from Dubai.
It's the ideal destination for adventure enthusiasts seeking breathtaking scenery and outdoor activities – sure to guarantee a memorable getaway.
Aquatic adventures: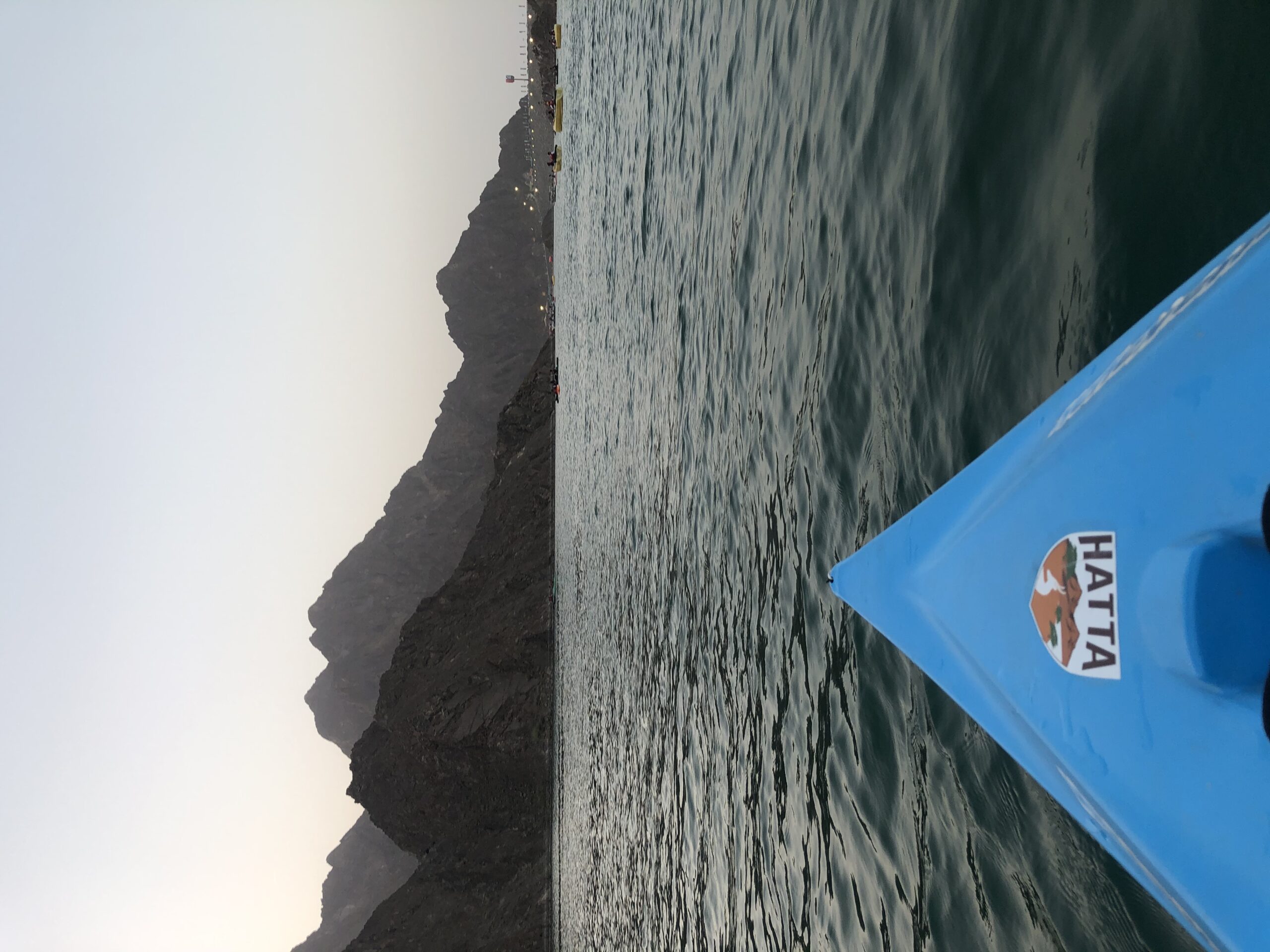 Looking for tranquility? There's no better spot to calm your soul than at Hatta's quiet lake, surrounded by a picturesque natural landscape.
Enjoy kayaking in the lake's vast waters formed by the Hatta Dam in the heart of the exquisite Hajar mountains, where the gentle stillness of the waters guarantees a safe and smooth ride for beginners or little ones eager to join onboard.
Other water activities include big attractions such as pedalo rides, water bikes, and donut boats to satisfy all tastes. All family members are assured to ride in perfect safety under the supervision of well-trained guides and mandatory life jacket use.
The golden hour, the period of daytime shortly before sunset, is the perfect time to enjoy water sports while watching the sun rays blanket the towering mountains in a warm, gradually diminishing glow.
Hiking: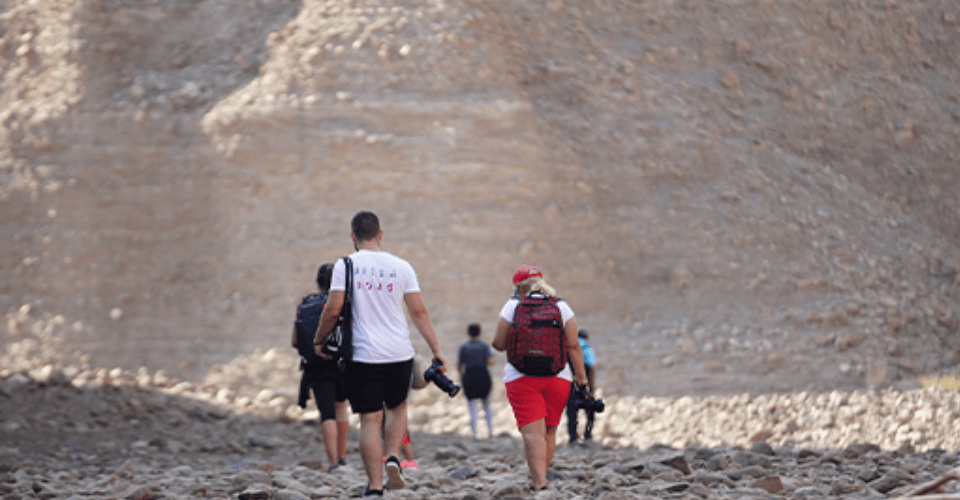 Hiking is a must for outdoor adventures while visiting Hatta.
From sandy patches to jagged rocks, Dubai's largest national park provides a gratifying experience for all ages. It offers trails comprising several routes that meet different hiking skill levels: from beginners to expert hikers and runners.
With a landscape so enchanting, you can easily lose track of time and indulge in the moment.
Though hiking may be physically demanding, it's a worthwhile experience that squashes worries and lifts your spirit.
Camping: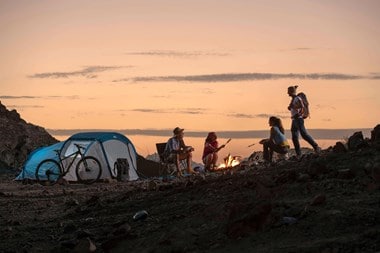 Hatta is also one of the best camping spots in all of the United Arab Emirates.
For those craving escape from the hustle and bustle of daily life, the Hajar mountains are the perfect place. Both locals and tourists treat it as a great opportunity to unplug from technology and gather with family or friends.
A number of facilities are available for visitors. Barbecue areas are provided for those who like to grill in addition to food carts installed at the Hatta Wadi Hub.
Hatta's camping experience leaves nothing to be desired, as one can enjoy the soothing atmosphere in your own tent or in one of the available trailer resorts for the night or weekend.
For those not into spending the night in a camp, you can claim a spot on the mountain to light up a bonfire, prepare a hot drink and enjoy staring at a sky filled with stars, before heading back to your hotel.
A comfortable alternative for camping is also provided by the JA Hatta Fort Hotel.
This retreat offers chalet-style rooms and villas with breathtaking garden and mountain views, while its high ceilings with exposed stone walls ensure a peaceful, historical atmosphere.
A day in the life of a beekeeper: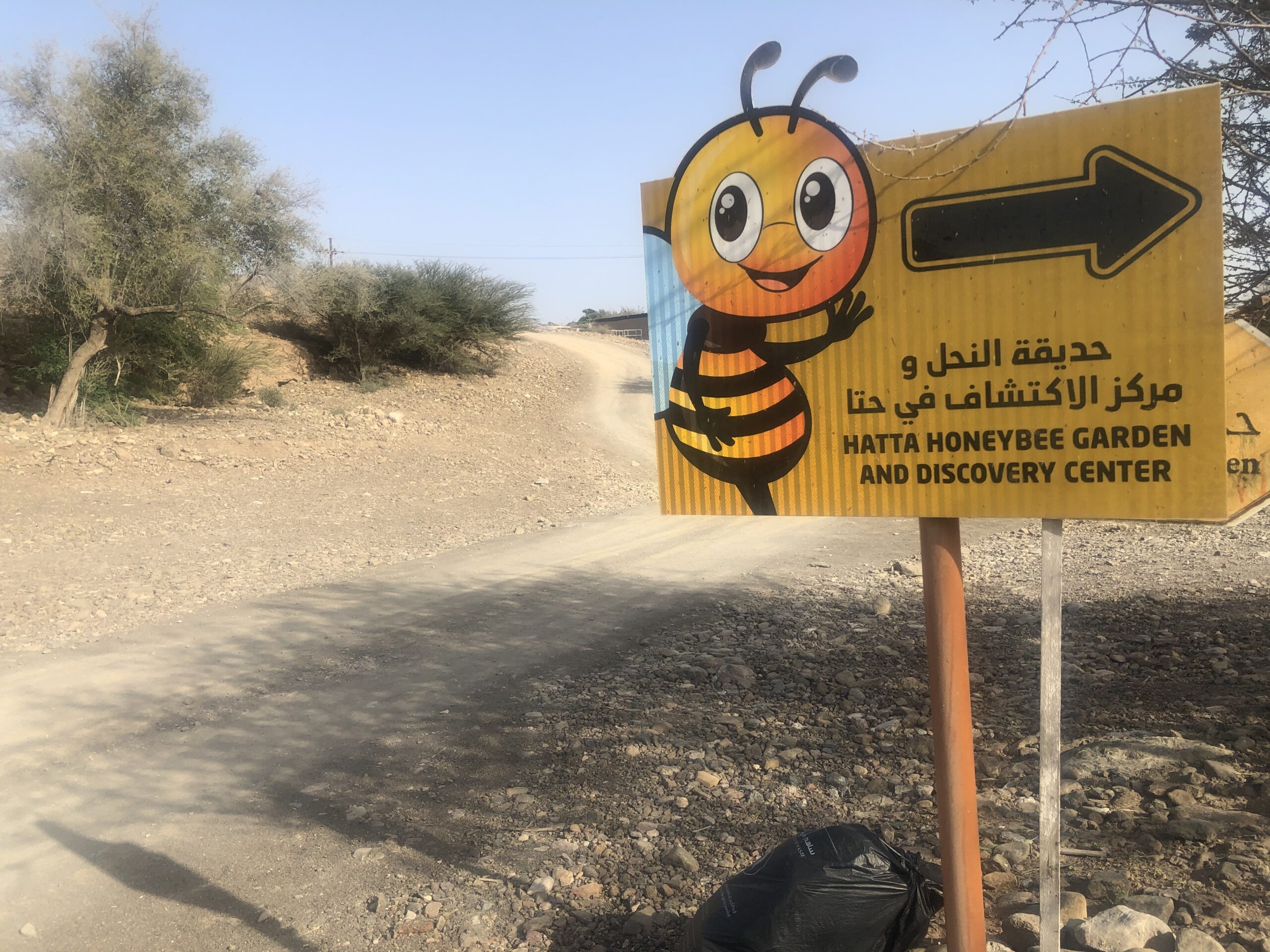 The Hatta Honeybee Garden and Discovery Center offers an unprecedented experience in the Middle East and North Africa, providing people with hands-on tours, workshops and projects about the wonderful world of bees.
For a short period of time, you too can become a beekeeper, with a complimentary beekeeping suit – complete with hat and face veil – to ensure protection from head to toe.
Under the guidance of an experienced apiarist, you can learn how to handle the bees, peek inside their hives, and acquire valuable information about the various kinds of bees, the best beekeeping forms, and the entire process of honey production.
Additionally, products made with 100 percent natural honey are offered for purchase.
Tucked in the mountains of Hajar, the bee sanctuary covers 16 thousand square meters and houses 300 of the 4,000 beehives owned by Hatta Honey across the UAE.
Since its establishment in late 2018, the center has welcomed thousands of visitors to raise awareness about the crucial role bees in the ecosystem, and has undertaken research to guarantee the preservation of honey bees.