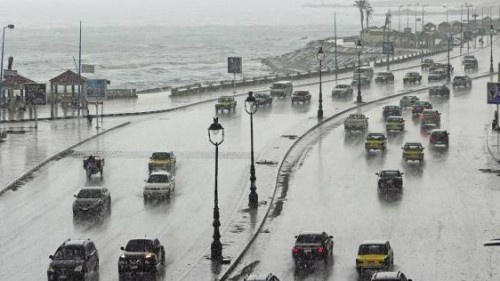 Heavy rain was experienced in Alexandria and parts of the north coast on Monday, affecting the traffic in areas such as Abu Qir and along the seaside Corniche.
Alexandria normally witnesses rainfall on November 22 every year which persists for four days.
Alexandria's public drainage company dispatched service vehicles to clear the streets from the water.
Chairman of the Alexandria Port Authority, Rear Admiral Medhat Attia, said that activity in the Alexandria and Dekhela ports will continue as usual during the rain spell, asserting that the Authority is prepared for ships potentially needing assistance due to the heavy weather.
Meanwhile, the city of Halayeb in the Red Sea governorate witnessed moderate thunderstorms, with rain clouds covering the city accompanied by lightning and heavy winds.
Meanwhile, Minya and the New Valley governorates raised their level of preparedness to "extreme" to face the rain, setting up camps to deal with possible problems in the coming period.
Governor of Sharkeya, Khalid Saed, asked the head of the city as well as the Water and Wastewater Company and the National Authority for Drinking Water and Sanitation to complete maintenance of equipment that removes water from sewage sinks and rainwater from streets.
Saed further asked the Directorate of Supply to supply the governorate's with petroleum products, facing an expected increase of consumption during winter.
Edited Translation from al-Masry al-Youm