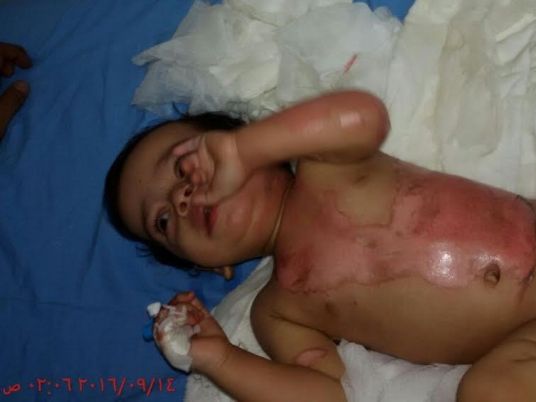 The parents of 11-month-old Barthenia Guirguis Abdel Masih spent two whole days going from hospital to hospital all over Cairo before finding one that would admit her and treat the second-degree burns on her body, according to the child's father Guirguis Abdel Masih.
They were turned away by some of the largest and most distinguished hospitals in the country, said Guirguis, simply because it was Eid al-Adha and many of the doctors were on holiday.
In the end, the child was admitted to Al Matareya Hospital, where she is now undergoing treatment for her extensive burns.
Through Al-Masry Al-Youm's citizen journalism page, Guirguis has shared photographs of his daughter's burns as well as an account of the family's ordeal.
Among the hospitals that turned the child away over a two-day period during Eid al-Adha were Kasr Al-Aini, Al-Salam and Al-Helmeya.
"Two whole days I was looking for a place to take my daughter. I went to every hospital I could find," said Guirguis.
"My daughter, she's only 11 months. We had an accident and some hot water fell on her. I live in Ezbet al-Nakhl.
"My wife, myself and some relatives hurried to Nahr al-Hayat Hospital first. They said they wouldn't admit her. We then went to Al-Demerdash Hospital, and after taking a look they told us they wouldn't treat my daughter, saying that because there were burns all over her neck it would be difficult to treat."
Abdel Masih said he used the Health Ministry's hotline number for serious medical emergencies and difficult cases, in the hope that a solution would be provided. Their response was to send him to a range of hospitals that also turned his daughter away, unless the family was willing to pay a large amount of money.
"I called 137, and they followed up with me," said Guirguis. "They sent me to all these different hospitals like Sayed Galal, Al-Hussein, Kasr Al-Aini. They all refused to admit my daughter.
"We took her to Al-Helmeya Military Hospital, but they refused unless we paid LE11,000 and another LE1,000 for whoever would be spending the night with her. They told me, 'If you have money, you'll get treatment. If you don't have money, then I'm sorry, but we can't accept the case.'"
Desperate for the means to pay for treatment, the family resorted to selling jewellery, but this proved difficult during the Eid holiday, when most shops are closed.
"I tried to sell my wife's gold and collect what I could from relatives," said Guirguis. "But for the two days I couldn't find any stores that would buy the gold.
"No one showed kindness or compassion towards my daughter. The doctors were cruel, and all the personnel would tell us that all the doctors are away for Eid."
Eventually, after two days of searching, Guirguis found a hospital willing to accept his daughter.
"Finally, Al-Matareya Hospital admitted her and she now has to be taken in for 10 days to repair the damage caused. Where are the Health Ministry officials? Who can bear this disorder and cruelty?" asked the father.