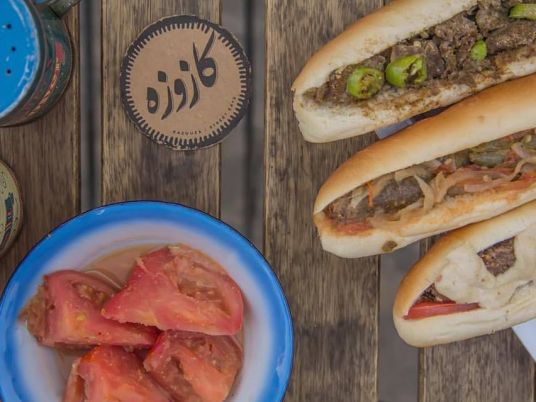 The longing for authentic Egyptian street food can sometimes be overwhelming. Just passing by a sandwich cart can be mouthwatering experience — with the rich aromas wafting your way, evoking the mouthwatering juices of kebda and soujouk, among many other street-friendly specialities.
Traditionally, those craving street food have to stop at a street cart, but innevitably such places raise concerns about hygiene, the source of the meat and the cleanliness of the chef.
These days, however, its possible to find all the same foods in more comforting settings, away from the dirt and noise of the street. A new wave of restaurants is offering street eats across Cairo in unique and pleasant settings, where owners have given some thought to everything from tableware to interior design.
Kazouza
Walking along Maadi's quaint Road 9, one stumbles upon a cozy and modest restaurant with a comfortable outdoor area. This is Kazouza, a restaurant with gorgeous accessories and decorations, including old Coca-Cola posters and bottle tops attached to the walls. Everything is unique: the tables, the salt-and-peper shakers and the receipt boxes, which are in the shape of old Pepsi bottle tops.

Street-food sandwitches at Kazouza
Kazouza is a common word in the Egyptian colloquial describing the cap on a Pepsi bottle. The restaurant owners chose the name to indicate the type of food and drinks served — something popular and really Egyptian. Going through the menu you'll find a cocktail of all the favorite Egyptian delights, including kebda, sogok, hawawshi, eastern feteer and kofta. All served with Coca-Cola in the old glass bottles.
Moreover, if you are looking for breakfast, you'll find a fine selection of foul, omelets, falafel and French fries. Kazouza's prices are super reasonable, with sandwiches as LE12. But try to go early, as the place is always packed and you might find yourself waiting a while, especially at weekends.
Mohamed Atia, the operations manager, told Egypt Independent that the project was launched in January 2015 mainly to attract street-food lovers.
"The project's main aim is to serve street food, including Kebda, Sogoq, Hawawshi savory and Meshaltet feteer, but in a healthy and hygienic way. We use only local meat and we never involve other people in preparing the food, because we make everything ourselves," he said.
"Currently we have only the branch in Maadi, but we are preparing to open a new one in Sheikh Zayed. We have another seasonal branch on the north coast, along with some mobile carts at some events and food festivals. There will also be a Halloween event in cairo," Atia said.

Kazouza's outdoor seating area
When they first opened, says Atia, customers provided good feedback, particularly on the taste of the food and the decor. On its Facebook page, Kazouza got more than 76,000 followers, most of them posting encouraging reviews.
"The place offers Egyptian street eats at the cozy end of Street 9. By far the best hawawshi sandwich I ever had, crispy and meaty. Also loved their traditional feteer with sugar, milk and cream. Service was speedy and staff was friendly," one of the users wrote.
Desoky and Soda
Next to Kazouza is a restaurant called Desoky and Soda, which offers a menu of authentic street food, boosted by some irresistible cheesy fillings and toppings, along with countless soda refills. The restaurant has two branches, one in Tanta and the other in Maadi.

Hawawshi with Pepsi at Desoky and Soda
The restaurant serves an array of sandwiches, as well as larger meals, often consisting of variations on traditional street-food recipes with a special twist. The restaurant refers offers these "dips" in traditional aluminum bowls, with works very nicely with a plate of bread. They also do a very nice pottery tajine.

A selection of "dips" at Desoky and Soda
Feedback for Desoky and Soda is remarkable, with more than 35,000 social media fans.
"You deserve a five stars. Very friendly staff, although they're overloaded when the place was busy. The food was tasty and delicious. It took them 15 to 20 minutes to bring the food. It's bit slow, but I know they cook it to order," one customer wrote.
Yokal
Another good option, with very nice decor to back up the fine food, is Yokal. The Heliopolis branch is rather small and hidden inside Midan Al-Horeya. The place is comfortable, featuring unique chairs made of an old Coca-Cola boxes, helped along by old songs from Adaweya.
Yokal is popular for its delicious kebdas and the small buns that are baked in-house. The name Yokal comes from a popular phrase in Egyptian colloquial, "El-Balady Yokal", which essentially means that the local food must be eaten – because it's irresistible.
Yokal was opened on January 1, 2015 in Heliopolis, and in July this year a bigger branch was opened in Zamalek. "We are planning to open four more branches to cover the whole city," owner Sheriff Mahdy told Egypt Independent.
One of Yokal's most popular options is sabe3 bel dakka, which is fries with special spices. There is also the kabout, a meal that consists of three sandwiches (kebda, sojouk and kofta) along with fries, a refill soda drink and a sakalans sandwich, which is stuffed with cream and halawa spread.
Yokal's prices are very cheap, with sandwiches going for just LE7.

Yokal's Kabout, a meal made of three sandwiches and French fries
"We have been working on the project for eight years. It took a lot of time to prepare a something different. We thought about all the details, the design of the bread and its size, the decoration and the recipes," said Mahdy.
An architect with no previous experience in restaurants, Mahdy took a while to find the right recipe for his street-food project.
"It was quite a challenge to think up something different and not familiar, like so many of the coffee shops and restaurants. I had the idea eight years ago when nobody had heard about street food in restaurants. But by the time the project was launched there were competitors that had already opened," he said.
Mahdy says that people usually crave street food at least once a month, and it's difficult to find such food anywhere other than the traditional street carts, which are not hygienic and often put people in hospital.
"We thought about how to serve this kind of food to people but in a very hygienic way," he said.

Yokal's chairs made of Coca-Cola crates
Previously, Yokal had mobile food carts that took part in events such as Cairo Bites. But now the company is more focused on developing the brand and reputation.
"People's feedback is mostly positive, but we put much care into the offline reviews we receive from our clients in the restaurant," he said.
Yokal's Facebook page features a great deal of positive feedback, with more than 30,000 followers.
"If you are a street-food junkie and want to eat with your family, then Yokal is the best destination," one reviewer said.