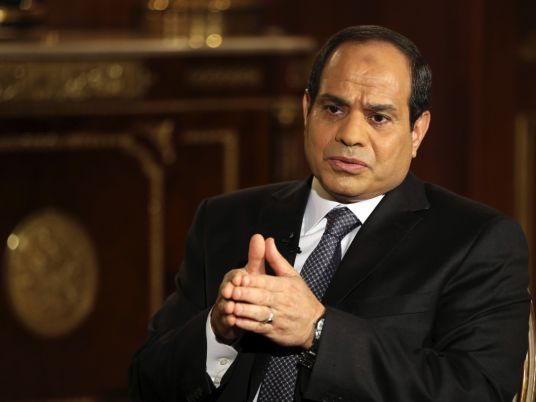 Leaked conversations between President Abdel Fattah al-Sisi and members of his presidency and army staff regularly aired by pro-Muslim Brotherhood satellite channels are genuine, the Huffington Post said Tuesday.
The recordings, dismissed by the Egyptian government and presidency as mere fabrications, are cited by supporters of Mohamed Morsy, whom Sisi ousted from office in 2013, as evidence to what they deem as a military coup against the former elected president and his desire to expand military influence.
The Huffington Post said professional forensic examinations by the UK's leading forensic speech laboratory, J. P. French Associates, can comfortably emphasize they were genuine.
The Egyptian president on Sunday gave a televised, recorded speech in which he reiterated strong ties with Gulf nations, warning of what he called "fourth generation warfare" that sought to sow division between Egypt and its Gulf allies. "We show every respect for them, and we should be vigilant toward what is done in order to create division and dissension", he said.
Turkish-based, pro-Brotherhood channel Mekameleen had aired what it claimed was a phone conversation between Sisi, the Armed Forces legal adviser, General Mamdouh Shahin and Sisi's bureau chief, Abbas Kamel.
In the conversation, Sisi, as the channel claims, is ridiculing his wealthy Gulf donors who had showered his government with billions of dollars in aid since Morsy's ouster, "discussing how to tap them for billions more and how to divert the money into the army's bank accounts," the newspaper explained.
"There are no indications that the spoken material in the recordings has been fabricated by editing together a large number of short speech segments or utterances," the Huffington Post quoted the laboratory as concluding. "It would be very difficult to create a convincing conversation in this way. Further, the speech material displays the features of natural conversations that one would expect to encounter in a genuine recording," it added.
The newspaper said that the recordings could negatively affect the financial and political support Sisi enjoys by his rich Gulf allies, especially Saudi Arabia which is under new management by the new Saudi King, Salman bin Abdulaziz.
The Independent's Robert Fisk said the leaks provide evidence to the illegitimacy of Morsy's removal back in 2013.
"Transcripts of the conversations two years ago, which have been newly authenticated, provide valuable evidence that the Muslim Brotherhood President of Egypt was deposed unconstitutionally in 2013, a fact that the country's new military leader denies. They also make for uproarious reading, as generals and senior ministerial officials working for Field Marshal Abdul-Fattah al-Sisi argue over the need to construct an entire prison wing beside an army jail – with a civilian police signpost over the door to fool judges and lawyers," Fisk wrote on Monday.