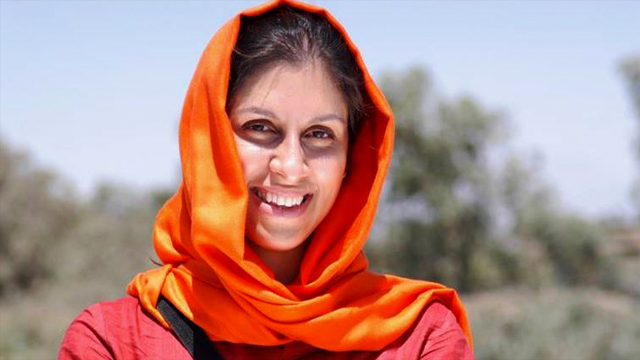 An Iranian-British woman serving a five-year prison sentence in Iran for plotting the "soft toppling" of its government while traveling with her toddler daughter faces new charges that could add 16 years to her sentence, her husband said Monday.
Nazanin Zaghari-Ratcliffe faced a court hearing Sunday at Tehran's infamous Evin prison where she heard of the new charges being brought against her by Iran's paramilitary Revolutionary Guard, which prevent her from seeking early release next month.
Zaghari-Ratcliffe pleaded innocent to the new charges, which involve her previously working for the BBC and being a current employee of the Thomson Reuters Foundation, the charitable arm of the news agency, her husband Richard Ratcliffe said.
"Thanks to the Revolutionary Guard's antics, this is a justice system that can no longer look its victims in the eye, can no longer look itself in the mirror," Ratcliffe said in a statement.
The British Foreign Office and Iran's mission at the United Nations did not immediately respond to a request for comment. State media in Iran also did not immediately report on the new charges.
Monique Villa, the CEO of the Thomson Reuters Foundation, called Zaghari-Ratcliffe's treatment at the hands of Iran "harrowing" and demanded that "these ludicrous charges must be dropped immediately."
"This inhumane treatment is breaking up a young family and has already caused irreparable damage to Nazanin's physical and mental health," Villa said in a statement.
Iranian news agencies have said Zaghari-Ratcliffe was convicted of plotting the "soft toppling" of Iran's government while traveling to visit her parents with her young daughter in 2016. Her family says the Guard tried to get her to confess on camera that she trained and recruited spies, a charge she denied.
Zaghari-Ratcliffe is one of several dual nationals held in Iran by hard-liners in the country's judiciary and security services on espionage charges, likely to be used as bargaining chips in future negotiations with the West. A U.N. panel of experts recently described the practice as part of an "emerging pattern" since the 2015 Iran nuclear deal.
Iran does not recognize dual nationalities, so such detainees cannot receive consular assistance. In most cases, dual nationals have faced secret charges in closed-door hearings.
Others with ties to the West detained in Iran include Chinese-American graduate student Xiyue Wang, who was sentenced to 10 years in prison in Iran for allegedly "infiltrating" the country while doing doctoral research on Iran's Qajar dynasty. Iranian-Canadian national Abdolrasoul Dorri Esfahani, who helped his country negotiate the nuclear deal, received a five-year prison sentence on espionage charges.
Iranian businessman Siamak Namazi and his 81-year-old father Baquer, a former UNICEF representative who served as governor of Iran's oil-rich Khuzestan province under the U.S.-backed shah, are both serving 10-year prison sentences on espionage.
Iranian-American Robin Shahini was released on bail last year after staging a hunger strike while serving an 18-year prison sentence for "collaboration with a hostile government." Shahini is believed to still be in Iran.
Also in an Iranian prison is Nizar Zakka, a US permanent resident from Lebanon who advocates for internet freedom and has done work for the U.S. government. He was sentenced to 10 years last year on espionage-related charges.
Former FBI agent Robert Levinson, who disappeared in Iran in 2007 while on an unauthorized CIA mission, remains missing as well.