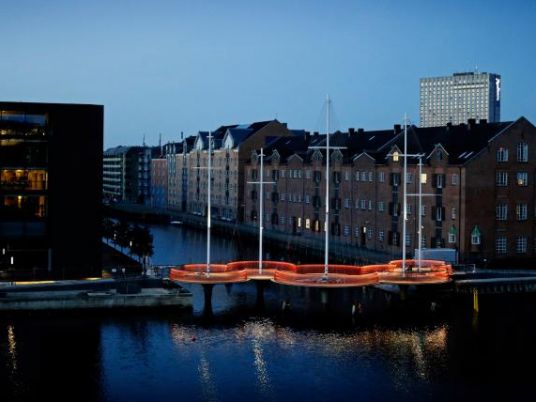 A pedestrian bridge designed by Olafur Eliasson has opened in Copenhagen, inspired by the Danish-Icelandic artist's childhood in Iceland.
Reminiscent of sailing boats, Cirkelbroen, or circle bridge, is made of five circular platforms in different sizes, each with its own "mast", according to Danish foundation Nordea-fonden which commissioned its construction.
Spanning the Danish capital's Christianshavn canal, the bridge, some 40 meters-long (131 feet), has a section that swings open to allow boats to pass through.
"One of the main sources of inspiration was for me my childhood in Iceland where the harbor, … where I spent a lot of time as my father was a sailor, sometimes filled up with boats so you could cross the harbor by going from one deck to the next," Eliasson said in a video by Nordea-fonden.
Born in 1967 in Copenhagen, Eliasson is known for his 2008 "The New York City Waterfalls" project where four waterfalls were installed along Manhattan and Brooklyn shorelines and his 2003 "The Weather Project" at London's Tate Modern, where he used lamps, mirrors and mist to represent the sun and sky.
Some 5,000 pedestrians and cyclists are expected to cross Cirkelbroen daily, according to Nordea-fonden, which has handed over the bridge's operation and maintenance to Copenhagen city.