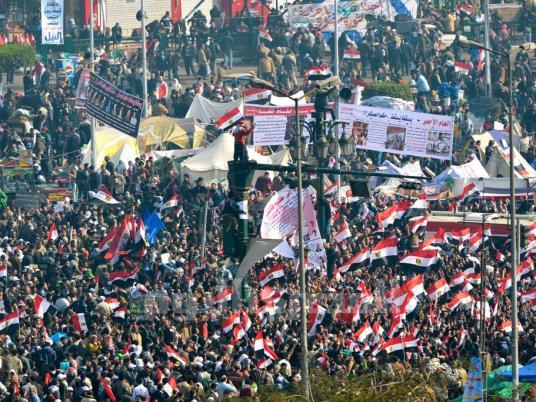 A few days prior to the fifth anniversary of the January 25 revolution, the hashtag #I_participated_in_January_Revolution in Arabic went viral on social media after Taher Mokhtar, a Doctors' Syndicate freedom committee member charged with calling for January 25 protests and possessing anti-regime publications, was detained.
The hashtag quickly spread throughout Twitter and then on Facebook, with people recounting their memories of the January 25 revolution, expressing their pride in participating in it, as well as describing it as the "noblest" revolution in history.
"January 25 revolution was the last attempt to save the nation from the deluge of corruption, negligence and underdevelopment," a Twitter user tweeted.
ثورة ٢٥ يناير كانت آخر محاولة لإنقاذ الوطن من طوفان الفساد و الإهمال و التخلف #أنا_شاركت_في_ثورة_يناير

— Hosam Hassan (@Zenguir) January 15, 2016
Meanwhile, Egyptian satirist Bassem Youssef tweeted: "I hope we make use of this hashtag differently, we should recall people who were detained because of the revolution, who we are proud of despite the setbacks."
١ #انا_شاركت_في_ثورة_يناير هاشتاج اتمنى اننا نستغله بشكل مختلف،نفتكر فيه الناس اللي اتحبست بسبب الثورة اللي احنا فخورين بيها رغم الاخفاقات

— Dr Bassem Youssef (@DrBassemYoussef) January 17, 2016
Additionally, famous businessman Hassan Heikal tweeted: "#I_participated_in_January_Revolution and I think it was the most important thing I ever did in my life."
#انا_شاركت_فى_ثورة_يناير واظن انه ده اهم حاجة عملتها فى حياتي

— Hassan Heikal (@heikalh) January 16, 2016
TV presenter Ahmed Al-Eissely tweeted that he participated in the revolution not for anyone, nor the poor, but to join one of the noblest events that ever occurred in Egypt.
طب #انا_شاركت_في_ثورة_يناير بقه؛ مش عشان حد ولا عشان الغلابة ولا عشان مصر حتى؛ شاركت عشان نفسي، عشان انا ابقى جزء من أنبل حاجة حصلت في مصر.

— Ahmad El Esseily (@ahmadesseily) January 18, 2016
"The greatest thing that happened in my life is that I was among those who prepared for that great day. It is my gift to my children and my grandchildren, which I am sure they will never abandon," said activist Shady Harb.
أعظم عمل في حياتي إني كنت جزء من التحضير لهذا اليوم العظيم هديتي لأولادي و أولادهم ومتأكد إن عمرهم ماهيفرطوا فيها #أنا_شاركت_في_ثورة_يناير

— Shady ElGhazaly Harb (@shadygh) January 15, 2016
Former presidential candidate Hamden Sabbahi thanked God for his blessings, one of them being his participation in the January 25 revolt.
رب اوزعنى أن اشكر نعمتك التى انعمت على ، واعظمها نعمة وشرف الاسهام فى الثورة . #انا_شاركت_فى_ثورة_25_يناير

— حمدين صباحي (@HamdeenSabahy) January 17, 2016
Egyptian novelist Ahdaf Soueif tweeted that if participation in the January 25 revolution was a crime, then she is a criminal.
لو فعلا المشاركة في ثورة يناير أصبحت تهمة، أنا شخصيا أعلن: أنا_شاركت_في_ثورة_يناير https://t.co/1YtiMgk8SW

— Ahdaf Soueif (@asoueif) January 15, 2016
Taking a stand
A group of public figures have signed a press statement entitled "I participated in the January revolution", which condemns the detention of Mokhtar and expresses the signatories' pride in having participated in the revolution.
The statement denounced turning participation in the revolt into an "official charge" in public prosecution investigations. "What we have said repeatedly and was later proven by the regime, its laws and official bodies is that you are either with the regime or with the January revolution".
The signatories of the statement said their participation in the January 25 revolution was "the greatest and noblest event in our personal and public history and we won't stop at unveiling the regime's corrupt practices, but will continue to work patiently and consistently within syndicates, universities, factories and streets to achieve the revolutionary demands of 'justice, dignity and freedom'".
The statement moreover argued for the pardon and release of thousands of detainees.
People who signed the statement include political activist Mona Seif, president of Strong Egypt Abdel Moniem Abol Fottoh, politics professor Amr Hamzawy, journalist Hossam Bahgat and former parliamentary member Mostafa AlNagar.