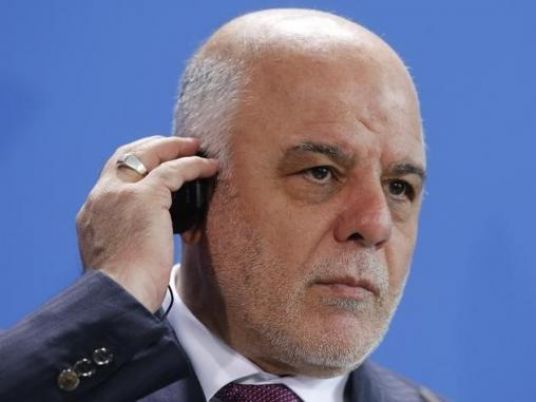 Iraq's powerful Shi'ite cleric Moqtada al-Sadr wants Prime Minister Haider al-Abadi to stay in power but replace his cabinet with professionals with no party affiliation so he can fight corruption, the head of the Sadrist bloc in parliament said.
Corruption is eating away at Baghdad's resources even as it struggles with falling revenue due to rock-bottom oil prices and high spending due to the costs of the war on Islamic State.
A year and a half into his four-year term, Abadi said last month that he wanted to replace his ministers with technocrats to weaken the system of patronage that distributing posts along political, ethnic and sectarian lines creates.
Sadr, heir to a Shi'ite clerical dynasty persecuted under Saddam Hussein, on February 12 gave Abadi 45 days to deliver on this pledge or face a no-confidence vote in parliament.
Dhiaa al-Asadi, head of the parliamentary bloc that supports Sadr, said the drive for a change of cabinet was what hundreds of thousands of Sadr's followers have held protests in the capital for on the last two Fridays. They plan to demonstrate this Friday as well, he said.
"Doctor Haider (Abadi) is saying 'You haven't tried me working with a professional cabinet. You gave me dysfunctional tools, knowing that I cannot perform with these tools since each one of them is tied to his own party'," Asadi told Reuters on Wednesday.
In a speech on Wednesday evening, Abadi said that he would announce ministerial changes soon and that the cabinet would be made of "competent professionals" who reflect the nation's ethnic and sectarian makeup.
But while all political parties publicly support reform and are against corruption, they have yet to respond to Abadi's request that they refrain from having representatives in the cabinet, contrary to the practice put in place after the 2003 US-led invasion that ended Saddam's regime.
Asadi said his group supports the move, however.
"We told [Abadi] 'We will form a bloc in parliament that will transcend the sectarian and ethnic groups that will form a majority and that will be ready to vote for you'," he said.
The Sadrist bloc, called al-Ahrar, accounts for only 34 of parliament's 328 members. But Asadi said more than 30 representatives of other blocs have already agreed to join the initiative to form a parliamentary coalition including Shi'ites, Sunnis and Kurds.
Keeping up the pressure for change on the streets, the cleric al-Sadr has asked his followers to demonstrate again this Friday in Baghdad's central Tahrir Square.
Last week's protest was held at the gates of the Green Zone, a heavily fortified district of Baghdad that houses government offices, raising concern of clashes with security forces.