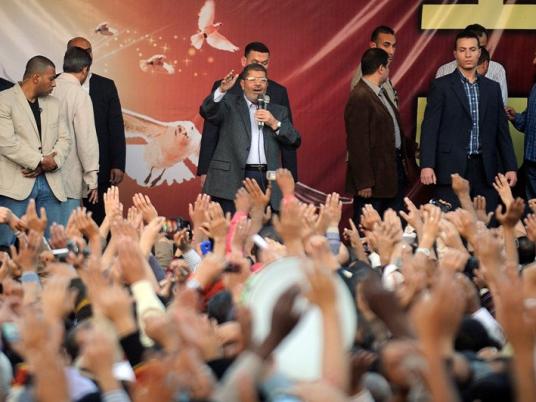 The Islamic Forces Coalition warned on Saturday of what it described as "manipulators of the will of the people" who were attempting to coup against legitimacy.
The coalition, comprised of 13 parties and Islamist movements, including the Muslim Brotherhood and Salafi Dawah, released a joint statement saying, "All options are open before the Islamic forces to maintain legitimacy and elected state institutions."
"Representatives of the Islamic Current in Egypt will not allow, under any pretext or under any name, the return and [resurrection] of the former corrupt regime," the statement said. "Millions who have gathered in this peaceful revolution will not stand idly by, while seeing the gains of their revolution taken away."
The statement added that the coalition "supports all activities aiming to maintain legitimacy," while also condemning what it described as the "paid corrupt media."
In the statement, the coalition emphasized the need for the constitution referendum to be conducted on time, and emphasized the need for political and economic stability.
Other groups signing on to the statement, aside from the Muslim Brotherhood and Salafi Dawah, included the Jurisprudence Commission for Rights and Reform, Jama'a al-Islamiya, the Association of Sunni Scholars, the Preachers Syndicate, the Revolution Board of Trustees, the Salafi Front, the Nour Party, the Freedom and Justice Party, the Construction and Development Party, the Asala Party and the Reform and Development Party.
Edited translation from MENA