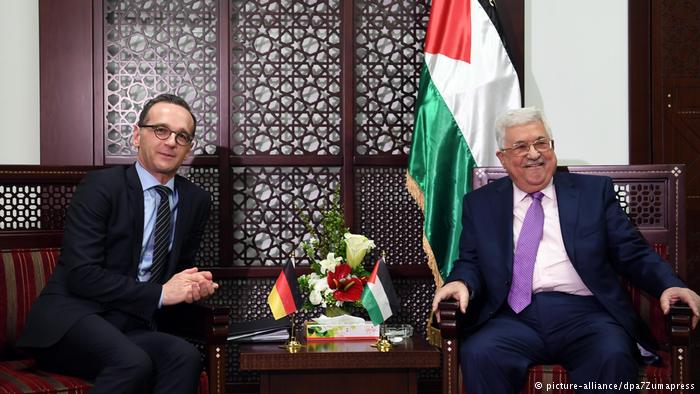 Germany's new foreign minister, Heiko Maas, made the comments Monday after meeting with Palestinian President Mahmoud Abbas and the Palestinian foreign minister in the West Bank city of Ramallah.
He urged the Palestinians to consider including the United States in future peace negotiations, stressing that peace efforts without the US "would be difficult."
Abbas dismissed Washington as a credible Mideast mediator after President Donald Trump unilaterally recognized Jerusalem as Israel's capital in December. The Palestinians claim East Jerusalem as the capital of a future Palestinian state.
"In this difficult situation, I want to encourage the people here not to tear down bridges," Maas said at a press conference with Palestinian Foreign Minister Riyad al-Maliki.
"The German government has always been committed to a two-state solution, and that will not change," he added. "But I realize that it hasn't gotten any easier."
Al-Maliki told journalists that Palestine also supports the two-state solution, and was "committed to direct negotiations with Israel and the war on terrorism."
"We rely on a role for Germany in the EU and a role for the EU in the peace process," he said.
Later Monday, during a meeting with Israeli Prime Minister Benjamin Netanyahu in Jerusalem, Maas said Germany's place "would always be on Israel's side."
"I believe that we agree on almost all objectives," he said, noting, however, that there were differences of opinion when it came to the two-state solution and the nuclear agreement with Iran, Israel's regional rival. Israel outright rejects the pact, while Germany staunchly defends it.
"In such a friendship, it's also possible to talk about the things we disagree on," Maas said.
Maas has made improving relations with Israel a focal point of his new role as Germany's top diplomat. During the handover ceremony at the Foreign Ministry in Berlin, where he took over the reins from Sigmar Gabriel, Maas stressed that "it's because of Auschwitz that I chose to go into politics."
He repeated those words on Monday morning at a meeting with about 30 Holocaust survivors in Jerusalem.
"I was looking for a resistance fighter in my family, but I did not find one. They were all just followers," he said. "Then I started to think about what I could do myself, and what contribution I could make so that it never happens again."
Netanyahu thanked Maas for his remarks on the Holocaust, saying they had "reached our hearts."
Maas' two-day state visit to Israel comes at a crucial juncture in Israeli-German relations. Since German Chancellor Angela Merkel's decision to cancel annual talks with Israel early last year, ties between the two countries have become increasingly strained.
Merkel justified calling off the talks by saying she needed to dedicate more time to last year's federal elections, although several reports followed indicating that chancellor's decision was motivated by Israel's ongoing expansion of settlements in the West Bank.