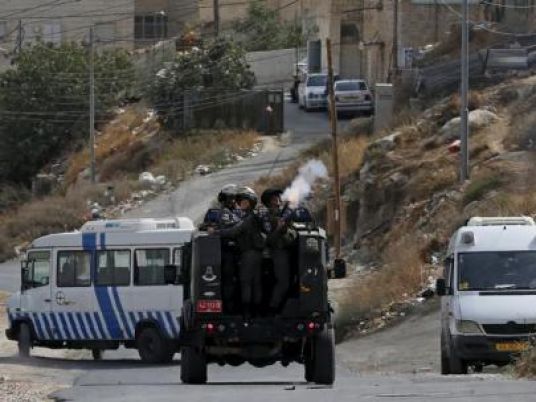 A Palestinian woman attempted to attack Israeli security guards with a knife at a checkpoint in the north of the occupied West Bank on Monday before being shot dead, officials said.
Guards fired warning shots after the woman was seen approaching a checkpoint near the city of Qalqilya with the weapon. She was shot after refusing to stop, the Israeli defense ministry said.
Two letters found in her bag indicated plans for a suicide attack, according to the ministry. Palestinian police identified her as Rasha Uweisseh, 23 and from Qalqilya.
The incident is the latest in a weeks-long wave of violence in Israel and the West Bank that has also spread to the Gaza Strip.
It came as Israeli Prime Minister Benjamin Netanyahu arrived in Washington to meet US President Barack Obama for the first time in more than a year.
Netanyahu's meeting with Obama will center on US defense aid to Israel following the July nuclear accord between major powers and Iran, but the violence between Israelis and Palestinians is also expected to be discussed.
Israel also responded overnight to a rocket launched from Gaza, which is controlled by militant Palestinian organization Hamas.
On Sunday night, "a rocket was launched from the Gaza Strip at southern Israel. Sirens sounded throughout communities in the Shaar Hanegev regional council as the rocket hit an open area," an army statement said.
"In response to the attack, (Israeli air force) aircraft targeted a Hamas position in the southern Gaza Strip."
The raid saw two missiles fired at a training camp for the Ezzedine Al-Qassam Brigades, Hamas's armed branch, Palestinian security officials said. The camp was empty at the time and no casualties were reported.
The Israeli military added that 19 rockets launched from Gaza have hit Israeli territory since the start of the year.
Much of the recent rocket fire has been claimed by Salafist jihadists in Gaza, though there was no claim of responsibility for Sunday's incident.
Israel holds Hamas responsible for all rocket fire from Gaza and nearly always responds with a similar raid.
Also on Sunday, six Israelis were wounded in three separate attacks by Palestinians in the West Bank.
Attacks since the start of October have left 74 Palestinians dead, around half of them alleged attackers. Ten Israelis and one Arab Israeli have also been killed.