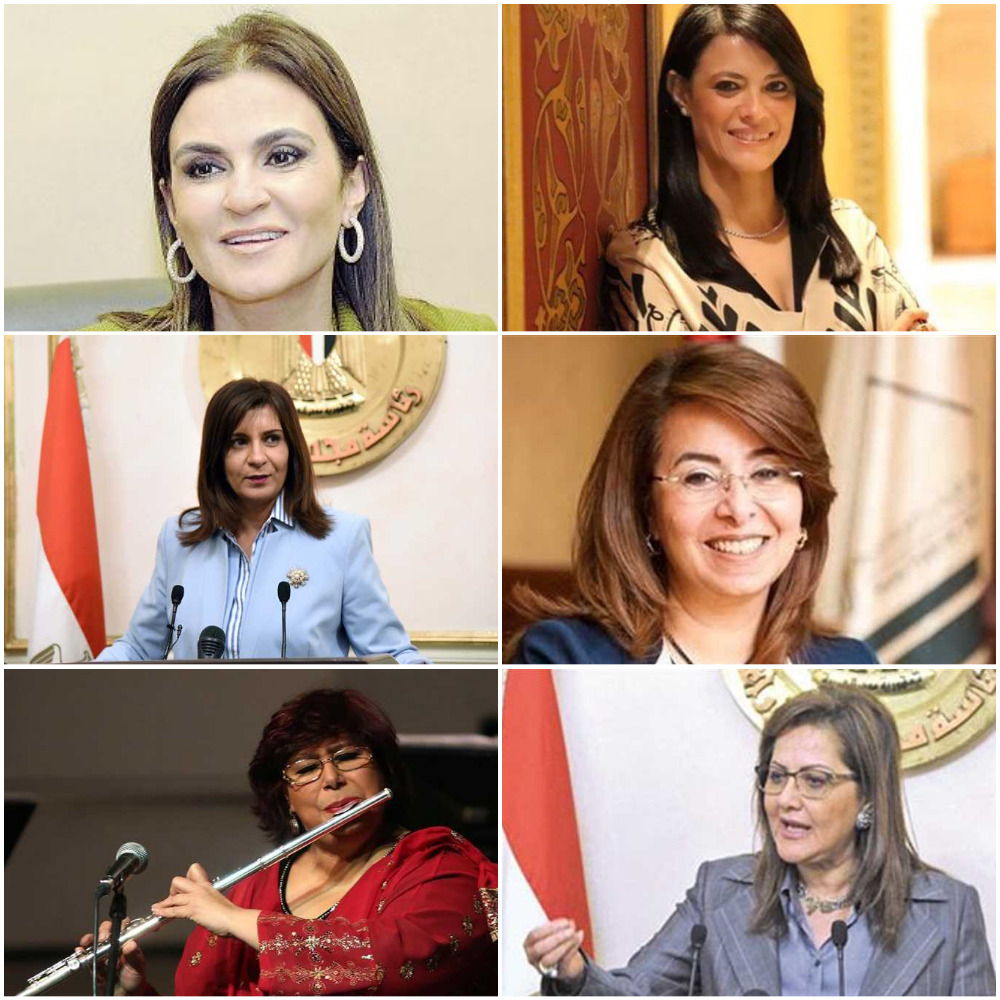 On an annual basis, countries around the world celebrate International Women's Day in March, but in Egypt, the government decided in 2017 to shed light on the plight of women and to remember them through a 'women's year' in addition.
'Women's year' was decided by President Abdel-Fattah al-Sisi.
In recent years, Egyptian women have played an important role in the Egyptian political atmosphere.
In this report, Egypt Independent shows some Egyptian women who are in important and powerful roles.
Mona El Prince
Mona Al-Prince, a controversial professor of English literature at Suez Canal University, decided to run in the 2018 presidential elections as a hopeful presidential candidate. However, she failed to achieve her goal as she was excluded from Egypt's High Electoral Commission.
Born in Cairo in 1970, El-Prince went on to complete her PhD in English Literature in 2004, studying at Ain Shams University's Faculty of Arts.
After obtaining her PhD, she then worked as a professor at Cairo University, before recently securing her current position at Suez Canal University.
Her 2018 presidential bid is not the first time she has been in the public eye.
In April 2017, she was investigated by Suez Canal University, after a video of her belly dancing went viral on social media.
She originally published the video on her Facebook page as a public post, but it was then shared widely, and sparked a wave of criticisms against her.
Buthaina Kamel
The well-known Egyptian female TV anchor Buthaina Kamel decided to run as a potential presidential candidate in the 2014 presidential elections. At the time she became the first Egyptian women in history to undergo medical exams to run as president.
She explained that Egyptian women must be part of political decision making in Egypt. The slogan for her campaign was 'Alshan set El Kol' [for the sake of women'.
Buthaina previously declared her intention to run for the Egyptian presidential elections in 2011, stressing the ability of women to run for presidency and compete efficiently, however she was unable to complete the remaining necessary papers to run.
Actress Tayser Fahmi
In November 2011, the Egyptian female actrءess Taysir Fahmi presented her papers to run for the 2012 presidential elections.
At that time, Taysir stated that the aim of running for elections is to remove the injustices being suffered by the many and to instead provide a decent life from making available food, education and health.
"Success in elections is not a matter of life or death," Tayseer said, stressing that she would abandon art and devote herself to politics if she won the presidency.
Despite that fact that no Egyptian woman was able to win the presidency, six women appeared in 2018 as ministers in the government of the Prime Minister Sherif Ismail. He increased the female precense in the ministry from four to six after appointing two new female ministers in the cabinet reshuffle, Rania al-Mashat as Minister of Tourism, and Enas Abdel Dayem as Minister of Culture.
Ismail's cabinet thus become the first Egyptian cabinet to boast six female ministers, making up 17.6 percent of all present ministers.
Minister of Culture Enas Abdel Dayem 
One of the two new members of the cabinet, Abdel Dayem, obtained a bachelor's degree from the Cairo Conservatoire.
Abdel Dayem was the dean of the Cairo Conservatoire since 2004 and has been the director of the Cairo Symphony Orchestra since 2003 until now. She is also the head of the department of woodwind instruments at Cairo Conservatoire. On top of all that, she served as chairperson for Cairo Opera House in 2012 until 2019.
Minister of Tourism, Rania al-Mashat
Mashat obtained her master's and doctorate degrees in economics from the University of Maryland, and Park College. The prominent economist went on to become the Vice Head of the Central Bank of Egypt (CBE).
Following the appointment of Tariq Amer as Governor of the CBE, she left the bank and joined the International Monetary Fund (IMF), becoming a chief economic adviser for the institution.
Before the reshuffle, the cabinet already had Investment Minister Sahar Nasr, Planning Minister Hala al-Saeed, Solidarity Minister Ghada Waly, and Immigration Minister Nabila Makram in its ranks.
Minister of Social Solidarity, Ghada Wali
After al-Sisi won the 2014 presidential elections, he assigned Ibrahim Mahlab to form the first government. At the time Ghada Wali had been tasked with the role of the Ministry of Social Solidarity after she was Secretary General of the Social Fund for Development.
Minister of International Cooperation, Sahar Nasr
Sahar Nasr is the third woman to take over the position of Minister of International Cooperation after Najla Al Ahwani and Fayza Abul Naga. She worked with the World Bank as a leading economic expert in the finance and private sector for the Middle East North Africa, and as the Regional Program Manager of the Small and Medium Enterprises Financing Fund for the same region.
Minister of Immigration and Foreign Affairs of Egyptian expats, Nabila Makram,
After being an advisor to the Egyptian Consulate General in Dubai, Makram was appointed to the post of Minister of Immigration and Affairs of Egyptians Abroad in Sherif Ismail's government.
She was born on August 13, 1969, and received a BA in Economics and Political Science at the University of Cairo in 1991 with a very good grade. She graduated from the Saint-Jean-Unid School in Alexandria. She held several positions in the Embassy of Egypt in Brazil and then in the Egyptian Consulate in Chicago, in addition to the Egyptian Embassy in the Italian capital Rome.
Minister of Planning, Hala Al-Saeed
She was appointed as Minister of Planning in a recent move in the current government headed by Sherif Ismail.
She was born on May 19, 1957 in Cairo. She was the daughter of Helmi El-Said, who was Minister of Electricity and High Dam in 1970. She received her PhD in Economics from the Faculty of Economics and Political Science, Cairo University in 1989.
She was elected Dean of the Faculty of Economics and Political Science at Cairo University in October 2011. She has been the Assistant President of Cairo University for Scientific Research and External Relations since September 2013.