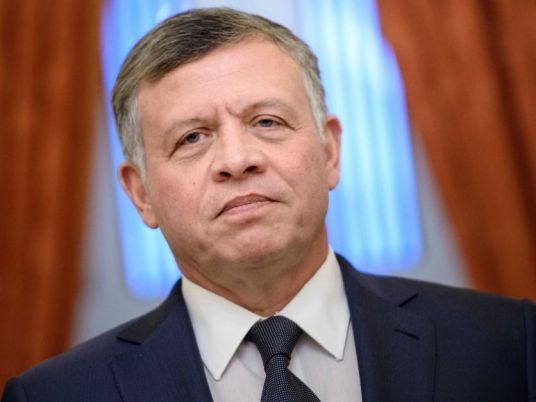 Jordan's King Abdullah II will be able to deliver an Arab consensus on Mideast peace when he meets with President Donald Trump at the White House on Wednesday, after a recent summit hosted by the monarch renewed an Arab offer of recognition of Israel in exchange for Palestinian statehood.
Could the revived Arab plan, coupled with Trump's stated eagerness to strike a deal, signal an opening for restarting stalled Israeli-Palestinian talks?
The Associated Press offers a look ahead:
What's on the Table?
At their annual summit last week, Arab leaders renewed an offer they first made to Israel in 2002 — recognition by dozens of Arab and Muslim nations in exchange for allowing the creation of a Palestinian state in the West Bank, Gaza Strip and east Jerusalem. Israel has balked, among other things, at the envisioned scope of withdrawal from the lands it captured in 1967 and unsuccessfully sought to renegotiate the initial proposal.
With the summit declaration to back his case, Jordan's king will be able to tell Trump that Arab leaders are serious about achieving what Jordan's foreign minister, Ayman Safadi, described as the "historic reconciliation between Israel and the whole Arab world."
But the king will couple the enticing prospect of regional peace with a warning. Jordan argues that the decades-old Israeli-Palestinian conflict remains at the root of regional turmoil and that, if allowed to fester, it will undercut the Trump administration's Mideast goals of containing Iran and defeating "Islamic State" (IS) militant group extremists.
Will Trump Engage?
Trump's international envoy, Jason Greenblatt, told Arab leaders on the sidelines of last week's summit in Jordan that the US president has a personal interest in achieving an Israeli-Palestinian deal and that he believes it is doable.
Trump hasn't said what kind of agreement he seeks, but appears to have backed away from initial suggestions that he could envision alternatives to the globally backed two-state solution that has been supported by previous US presidents.
For now, Trump envoys are trying to get Israeli Prime Minister Benjamin Netanyahu to curb settlement construction on war-won lands and ease economic restrictions on Palestinians — a traditional US move when trying to restart Israeli-Palestinian talks.
Greenblatt also won praise from Palestinian officials, who say he was surprisingly open to their concerns during his recent "listening tour" in the region.
A Rare Opening?
Early on, Trump positioned himself as a staunch Israel supporter, eliciting alarm in parts of the Arab world and cheers among Israeli hard-liners.
The administration has since tried to adjust the balance on some issues, seeking a settlement slowdown and holding off on a promise to move the US Embassy in Israel to contested Jerusalem. US ally Jordan, custodian of a major Muslim-run shrine in Jerusalem, has warned such a move would fuel extremism.
Some argue that recent events could create an opening for resuming Israeli-Palestinian negotiations — despite perceptions that the Trump White House hasn't formulated a clear Mideast strategy.
Trump's personal interest in a deal contrasts with his predecessor Barack Obama's more hands-off approach, and the current president's amicable relationship with Netanyahu could give him greater leverage with Israel, said Jordanian analyst Musa Shteiwi.
Another key ingredient — broad Arab support for negotiations — will be delivered by Jordan's king on Wednesday.
"There is an opening," said Shteiwi, head of the Center for Strategic Studies, a think tank at Jordan University. "We should be cautiously optimistic."
What Does Jordan Want?
The White House meeting will affirm the king's traditional role as Mideast mediator and raise his profile as an arbiter of Arab consensus.
Jordan seeks a solid US promise that Washington will try to revive peace efforts, most importantly by persuading Israel to engage in credible talks on Palestinian statehood, said a government official who spoke on condition of anonymity because he was not authorized to talk to reporters about diplomatic efforts.
There have been no serious Israeli-Palestinian talks since gaps widened with Netanyahu's 2009 election. Netanyahu hasn't formally reneged on the principle of a two-state solution, but has stopped short of mentioning it in recent weeks, and most of his Cabinet members oppose the idea.
What About Israel?
Netanyahu reportedly told Cabinet ministers last week that it's important for Israel to show goodwill and not be seen by Trump as an obstacle to any US initiative. Still, talks with the US on slowing settlement construction haven't led to results and Israel last week approved a new settlement — the first in 20 years — billed by Netanyahu as keeping a previous promise to settlers. At the same time, Netanyahu reportedly proposed unilateral Israeli construction limits.
Netanyahu envoy Michael Oren, who recently met with Greenblatt, said on Monday that Israel wants Arab states to take concrete steps to "show that they are not just talking about peace, but actually mean it."
This would include "aspects of normalization," Oren said, but did not elaborate. He described a process of mutual goodwill gestures that could gradually lead to a peace agreement.
What Else Will Come Up?
Another important issue for Jordan will be the fight against the Islamic State group, which controls territory in neighboring Iraq and Syria. The militants have shown with a series of recent attacks that they pose an internal and external threat to pro-Western Jordan.
Jordan has been part of a US-led military coalition against IS for the past two years, hosting Western military trainers and carrying out airstrikes against IS targets. A senior White House official last week portrayed Jordan as a "critical" US partner in the fight against the extremists.
Jordanian and US interests appear to converge, with both seeking to step up the anti-IS campaign.
Associated Press writers Josef Federman in Jerusalem and Jill Colvin in Washington contributed to this report