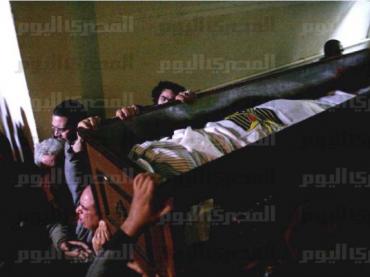 Thousands of Sohag Governorate residents mourned photojournalist Al-Husseini Abu Deif Thursday during a funeral in his hometown.
Abu Deif, was filming protests for privately-owned newspaper Al-Fagr when he was shot with birdshot after President Mohamed Morsy's supporters attacked an opposition sit-in outside the presidential palace in Cairo on 5 December.
Abu Deif died in Qasr al-Aini Hospital Wednesday. A funeral procession was held in downtown Cairo that night, with mourners marching from the Journalists Syndicate to Omar Makram Mosque in Tahrir Square.
His body arrived in his hometown of Tama, Sohag, early on Thursday, and prayers were held before the funeral. Abu Deif's parents and siblings said they hold Morsy and the Muslim Brotherhood responsible for his death.
The funeral turned into a march against the president and the group. Participants chanted: "Down with the supreme guide's rule," "Oh, Husseini, your blood is liberating the country," and "Even if they kill us in the streets, we will speak the truth."
Some mourners who support Morsy objected to the chants, and minor quarrels broke out at the funeral.
"Husseini was our eldest brother. We are eight siblings and my father works as a simple driver. Husseini adored journalism, and that prompted him to travel and reside in Cairo, as he believed that his career was a platform to champion what is right and stand against tyranny," said Salem Abu Deif.
"[President Mohamed Morsy's] decisions were the cause of the clashes between Egyptians, and he did not intervene to break up the fighting, which raged in front of his palace and caused the death of more than 10 martyrs," Salem added. "I voted for Morsy in the presidential election, and I announce in front of everybody that I regret it."
An association for young journalists in Sohag said they would stage a protest holding coffins in Thaqafa Square to protest Abu Deif being targeted while doing his job.
The association said in a statement that Morsy and government officials are responsible for the clashes and deaths outside the palace, describing the event as a repeat of the Battle of the Camel, an attack on protesters in Tahrir Square during the 18-day uprising in January 2011.
Edited translation from Al-Masry Al-Youm