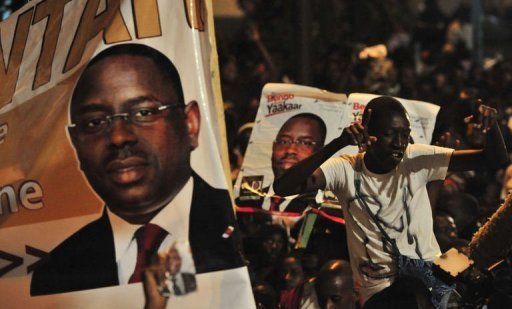 Thousands of people celebrated in the streets of Dakar early Monday after Senegal's President Abdoulaye Wade admitted defeat in his bid for a third term, quelling fears he would try to hang on to power.
With early results from Sunday's second-round runoff giving his rival Macky Sall a commanding lead, Wade chose to phone Sall to congratulate him the same evening rather than wait for the definitive results.
State media had already released a stream of results showing Sall had taken a commanding lead.
Even before Wade threw in the towel, thousands of people spilled onto the streets, chanting, dancing and sounding car horns. Outside his party headquarters supporters danced to music blaring from powerful speakers.
"Macky president," "This time we have it," "We have won", the revelers shouted.
Similar scenes played out in downtown Dakar at Independence Square, where scores of youths on motorbikes yelled and hooted, performing daredevil stunts in the square and outside the presidential palace.
It was a stark contrast to the protests that had been sparked there by 85-year-old Wade's controversial bid for a third term.
In the run-up to the first-round 26 February vote, the square was the scene of near daily clashes with protesters and riot police who fired tear gas and rubber bullets in a bid to break up the protests.
The unrest during that period claimed six lives.
As the octogenarian president defiantly pushed for a third term in office in the face of fierce internal and international criticism, many expected the worst after Sunday's second-round vote.
Wade had remained defiant in the run-up to the vote, dismissing as "absurd" the idea that he might lose, which only raised fears that the poll's outcome would be disputed.
When it came to it, however, Wade knew what to do.
"My dear compatriots, at the end of the second round of the vote … the current results indicate that Macky Sall has won victory," he said in a statement, confirming state media reports he had phoned to congratulate Sall.
"The real winner remains the Senegalese people," Sall told reporters in a statement after his victory became clear.
"I will be the president of all Senegalese," he promised, thanking Wade for his telephone call.
Wade's congratulatory call recalls the one made back in 2000.
On that occasion, the incumbent Abdou Diouf telephoned Wade to admit defeat in what became a celebrated democratic handover in the west African nation.
Wade's defeat — and his promptness in acknowledging it — will have come as a relief to those who feared the election would derail one of Africa's pioneer democracies.
Former colonial power France and the US had both urged him not to pursue the controversial third term of office.
Voting on Sunday closed at 6 pm, but initial results published by state media showed Sall beating Wade at least 2:1 in the overwhelming majority of polling stations.
The outgoing president was even roundly beaten in his home constituency.
It was a humiliating blow to a leader who was hugely popular when first elected in 2000 after 25 years as opposition leader.
Sall, 50, was once tipped to succeed the veteran leader as his protege following a meteoric rise which at one point had him serving as Wade's prime minister.
But he fell from grace and left the ruling party to strike out on his own.
In what was his first bid at the presidency, his strong first-round showing persuaded the rest of the opposition to unite around him to unseat Wade.
In 2007, Wade was re-elected in the first round with 55 percent of the vote.
But his popularity plunged in recent years amid rising food prices, power cuts and the widespread perception that he was trying to line up his son Karim to succeed him.
He had served his two terms, a limit that he himself had introduced.
But since that law was not retroactive, later changes to the constitution allowed him to serve two more mandates, he argued.
The country's top court, the constitutional council, agreed — and it was that decision that sparked the angry street protests.
And as a coup played out in neighboring Mali last week, European Union election observers urged Senegal to prove its credentials as a strong democracy in a troubled region.
"I hope as a democrat that Senegal will show a strong example in this African region which is so tormented," said EU mission chief Thijs Berman.
Senegal has been hailed as one of west Africa's success stories, the only country in the region never to have suffered a military coup.