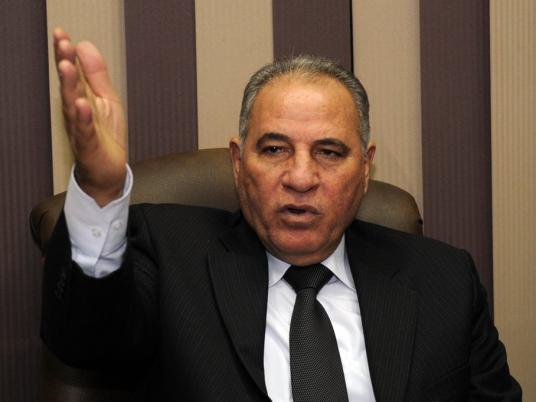 Justice Minister Ahmed al-Zend has apologized for a remark in which he said he would arrest any journalist who made false allegations against him or his family, even if it was "the Prophet". The statement ignitied angry calls for his prosecution and removal from his position of authority.
Zend made the remark in defense of his litigation of a number of journalists who accused him of financial corruption, claiming that he would give prison sentences to whoever warranted it, "even if it was the Prophet." The comment, made to Sada al-Balad's Hamdi Rizk on Saturday, adds to the list of Egyptian public figures who have faced prosecution over charges of insulting Islam and its hallowed prophets. Many twitter users began a hashtag trend calling for his removal and trial.
Responding to the outbreak of censorship, Zend said on Twitter that his statement was "a slip of the tongue", also making a couple of phone calls to satellite TV channels stressing that he was "speaking metaphorically" and that he had "asked for God's forgiveness for the mistake."
The independent Committee to Defend Press Independence demanded that Zend be tried for "intimidating journalists" and "insulting the Prophet Mohamed."
Al-Azhar, the Muslim World's top religious academic institution, advised in a statement on Sunday against "exposing the Prophet's dignfied stature to insults through public talk in the media, even unintentionally." The statement maintained that "everybody should understand that the Prophet represents the [Islamic] nation's honor and the source of its pride and glory."
This is not the first time the former president of the Judges Club has been drawn to the public's attention over a controversy. In 2012, Zend, who filled the place of a predecessor removed for making apparently classist statements, responded to accusations of nepotism in judicial posts. He was quoted as saying, "Those who attack the appointment of judges' sons are envious haters and will be disappointed. Sons of judges will continue to be appointed year after year and no force in Egypt shall hinder the holy march of the judiciary."
"Judges rights will not be given up … We are the masters and everyone else are slaves," he told al-Faraeen channel during a phone interview.
Edited translation from Al-Masry Al-Youm