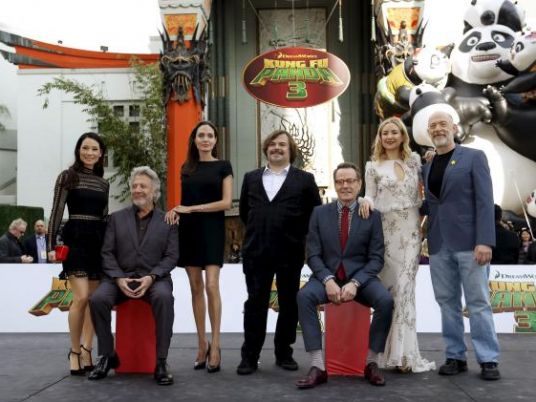 "Kung Fu Panda 3" showed plenty of power at the US box office with a solid opening weekend of $41 million at 3,955 theaters as the durable family franchise dominated moviegoing.
Disney's launch of Coast Guard rescue adventure "The Finest Hours" saw only modest returns with $10.3 million at 3,143 sites — trailing both "The Revenant" and the seventh weekend of "Star Wars: The Force Awakens."
Marlon Wayans' spoof "Fifty Shades of Black" generated only middling business at about $6 million at 2,075 locations and Natalie Portman's oft-delayed Western "Jane Got a Gun" was nearly invisible with less than $1 million at 1,210 screens.
"Kung Fu Panda 3," distributed by Fox for DreamWorks Animation, will finish its first weekend near 2011's "Kung Fu Panda 2," which opened with $47.7 million domestically on its way to $162.5 million. The 2008 original bowed to $60.2 million and ended its US run with $215 million.
The cartoon also helped the US box office turn in a respectable performance following a dismal weekend that saw business hit hard by the massive East Coast snowstorm. Leonardo DiCaprio's "The Revenant" won the frame with only $16 million in its third weekend of wide release.
"The Revenant" remained a solid draw in second place in its fourth weekend of wide release, thanks to its dozen Oscar nominations and DiCaprio's star power. It finished the weekend with $12.4 million at 3,330 sites for a decline of only 25 percent and has now generated an impressive $138.2 million domestically.
DiCaprio is widely expected to win his first Oscar for his gritty portrayal of fur trapper Hugh Glass in "The Revenant." He won the SAG Award on Saturday.
Disney's "Star Wars: The Force Awakens" led the rest of the pack with $10.8 million at 2,566 locations, lifting its record-setting US total to $895.4 million. That was enough to edge the studio's "The Finest Hours" for fourth.
Universal's third weekend of "Ride Along 2" followed in fifth with $8.4 million at 2,412 sites, lifting its 17-day total to nearly $71 million.