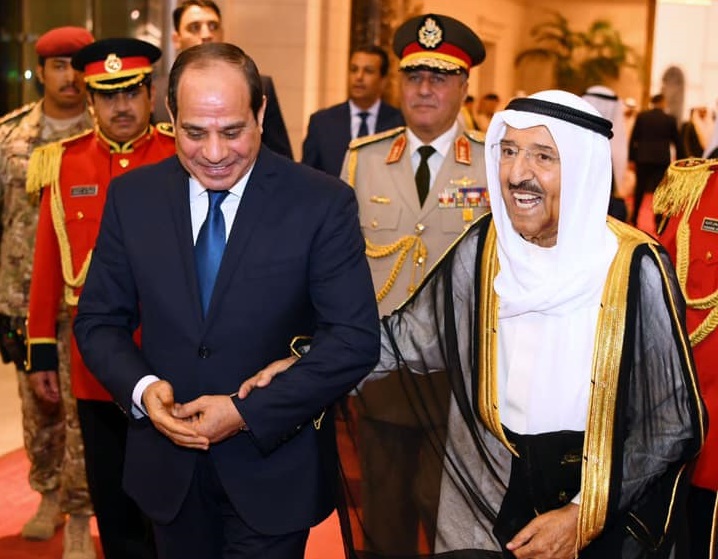 Egyptian President Abdel Fattah al-Sisi said on Sunday that the national security of Kuwait and the Gulf states is an integral part of Egypt's own national security.
Sisi made the remarks during a meeting with the Emir of Kuwait, Sheikh Sabah al-Ahmad al-Jaber al-Sabah.
Egypt's Presidential Spokesperson Bassam Rady said that Sisi stressed Egypt's keenness to continue the existing cooperation frameworks between the two countries across various fields.
Sisi expressed his happiness in visiting Kuwait, affirming Egypt's pride in the historical ties between the two countries. He added that Egypt appreciates Kuwait's stance in support of the Egyptian people's will and developmental efforts.
Rady said the talks touched on ways to boost bilateral relations, especially at the economic level, in light of Egyptian economic reform program's implementation, which saw the adoption of reforms that enabled Egypt to achieve tangible positive developments, build up an advanced infrastructure, and improve the investment environment.
The two sides also discussed investment opportunities in Egypt in light of the advantages and incentives offered by the new investment law.
The two sides reviewed efforts to combat terrorism, where they agreed to intensify and strengthen security cooperation between the two countries, and continued cooperation to counter the terrorist forces that seek to sow discord and sabotage in various countries.
President Sisi also praised the efforts exerted by Kuwait to contribute to reaching political settlement to the existing crises in the Arab world, especially with regard to settling the Yemeni crisis, thus ending the suffering of the Yemeni people.
For his part, the Emir of Kuwait praised the sincerity and closeness of Egyptian-Kuwaiti relations.
He said that Egypt enjoys a special place for the Kuwaiti people. He praised Egypt's pivotal role in supporting the security and stability of Arab countries and their efforts to promote joint Arab action at all levels.
The Emir stressed Kuwait's aspiration to continue enhancing bilateral relations between the two countries, especially on economic and developmental levels.
Edited translation from Al-Masry Al-Youm