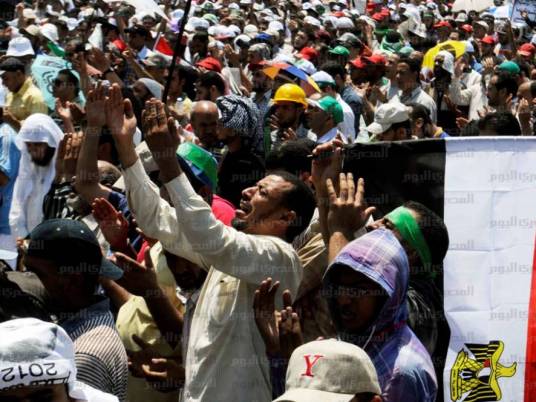 The Salafi Daawa, Egypt's largest Salafi group, has urged supporters of toppled President Mohamed Morsy to disperse following the Islamist leader's removal by the army on Wednesday.
An estimated 50 civilians have been killed over the past two weeks during clashes between Morsy's supporters and opponents demanding early presidential elections.
In a statement on Thursday, the group said it "urges the sons of the Islamic movement to properly assess the situation and realize the change of political conditions."
It also called upon protesters to "save their own blood and those of the patriotic army and police," and to join hands with groups across Egypt's social and political spectrum.
The Salafi Daawa statement referred to the "painful moments which witnessed the removal of the first elected president and the temporary suspension of the constitution," blaming " wrong practices and excommunication speeches that propose violence in the name of jihad."
Efforts to alter Egypt's "Islamic identity" would be unacceptable, the Salafi group warned, suggesting "Egypt's patriotic army" should never relinquish "Sharia and its provisions in the constitution."
The organization also warned against the threat of a civil war in Egypt followed Morsy's removal.
Hours before Morsy's ouster, the Nour Party, the Salafi Daawah's political arm had urged the toppled president to cede to popular demands and stand down, marking a shift in political alliances between the president and other Islamist groups.
Edited translation from MENA