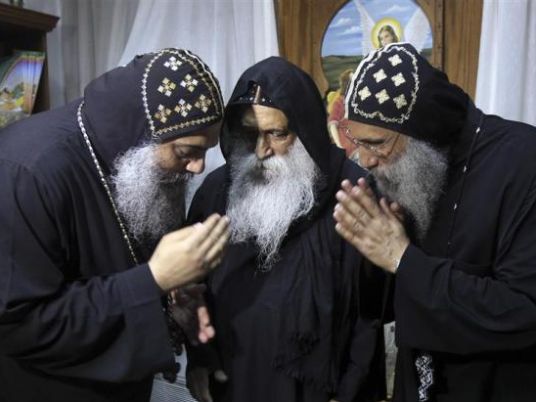 Coptic Christian families continued to flock to Egypt governorates, while the Egyptian Red Crescent Society has announced it is providing LE6 million in aid to displaced families that left Al-Arish in northern Sinai, in the wake of terrorist killings against Copts in the city.
Coptic Orthodox Church sources in Assiut told Al-Masry Al-Youm that 14 families arrived in the cities of Manfalot and Assiut, in Upper Egypt.
One of the fleeing Copts in Assiut is the wife Gamal Garas. She said that gunmen stopped her husband in the market and asked him for his name then killed him by firing bullets to his head. She decided to return to her hometown after the accident.
Another fleeing Coptic Christian, Ra'fat Ayyad, recounted his ordeal. He was selling groceries in his shop in the city, when he saw gunmen searchng for Copts so he decided to leave everything behind and head to Assiut.
Minya governorate also received 6 Coptic Christian families up until Friday. The governor Essam al-Bedeawi met with the families; he was handling their housing and helpng facilitate their children's admission to schools and university in the city.
Social Solidarity Directorate in the governorate dispensed an urgent subvention to the families.
Also in Dakahlyia governorate, the governor Ahmed al-Shaarawy ordered 5 apartments to be furnished to receive the fleeing families.
The Social Solidarity ministry said in a statement on Friday that the Egyptian Red Crescent Society, in cooperation with the International Committee of The Red Cross (ICRC) provided aid materials worth LE6 million to Coptic families who were displaced from Al-Arish to several governorates, to escape being targeted by the terrorist organization "IS".
The Coptic Orthodox Church said on Tuesday that a total of 133 Christian families, comprising a total of 546 persons, have so far fled from Al-Arish city.
Seven Copts were killed by extremists in Al-Arish in less than three weeks, including two persons who were burned to death. The incidents sparked panic among Coptic families residing in the city and prompted them to move to other provinces, mainly Ismailia.