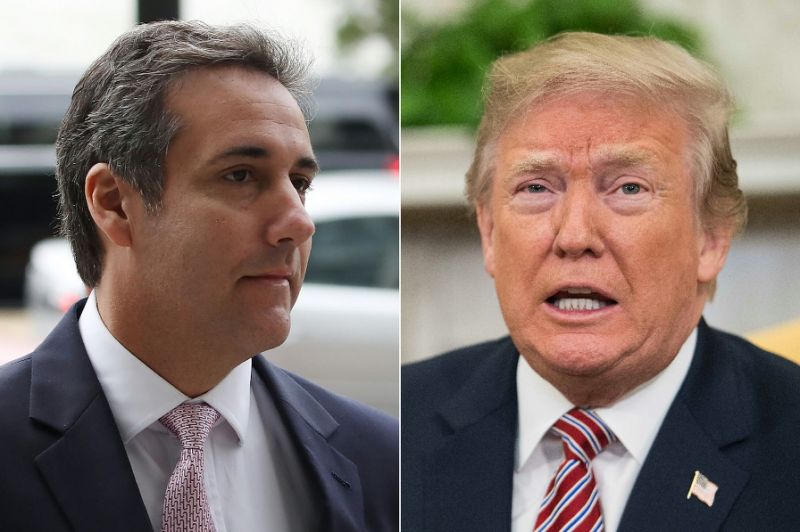 The dramatic leak of a taped conversation between Donald Trump and his longtime attorney signals an aggressive new strategy by Michael Cohen, raising questions about how much the US leader has to fear should the former fixer cooperate with prosecutors.
On the tape, which was broadcast Tuesday, Trump can be heard discussing with Cohen how to hush up allegations that he had an affair with a Playboy model in 2006, and buying the rights to her story.
The tape was reportedly made two months before the 2016 presidential election and weeks before the Trump campaign denied any knowledge about Karen McDougal's allegations of a 10-month fling with the tycoon.
Cohen's lawyer released the tape to television network CNN, an arch critic of the Trump administration, and in a flurry of interviews declared his client had "turned a corner" and would continue to speak "the truth."
Cohen, who once declared he was so loyal he would "take a bullet for the president," is under federal investigation in New York for his business dealings and reportedly whether hush payments violated campaign finance laws.
In addition to being involved in efforts to hush up McDougal's story, he famously paid $130,000 to porn star Stormy Daniels just weeks before the election to silence her own claims of an alleged one-night stand with Trump.
The leaking of the tape and reports that there are further recordings has fanned speculation about how much damage Cohen can inflict on the president and whether he is now mulling a cooperation deal with federal prosecutors.
In an ABC News interview released on July 2, Cohen said his family and the country commanded his "first loyalty," the first fuel to that speculation.
– 'Tell the truth' –
On Wednesday, his newly hired, high-powered attorney Lanny Davis compared the Cohen tape to the Watergate tapes that ultimately forced Republican president Richard Nixon to resign in 1974 to avoid impeachment.
"Listen to the tape in the way that (former White House counsel) John Dean had a tape that did in Richard Nixon," he told ABC television. "Ultimately Donald Trump is going to be done in by the truth."
Davis, who worked for the Bill Clinton White House, told ABC that Cohen had "more tapes." He told CNN that his client had "turned a corner in his life" and was "now dedicated to telling the truth."
On Wednesday, a seething Trump lashed out, tweeting: "What kind of a lawyer would tape a client? So sad! Is this a first, never heard of it before?"
"Why was the tape so abruptly terminated (cut) while I was presumably saying positive things?"
While Trump suggested over the weekend that Cohen may have acted illegally in secretly taping their discussion, jurists said it might not be so simple.
On the tape, Trump and Cohen talk about buying the rights to McDougal's story, which she had sold a month earlier to the National Enquirer for $150,000. The tabloid never published the story. The rights were never bought.
– 'Protecting himself' –
During the campaign, the Trump team denied any knowledge of the deal between McDougal and American Media, the magazine's parent company.
But on tape, the candidate expresses no surprise when the issue comes up and Cohen talks about essentially reimbursing the company for what it paid McDougal.
"It really does signal a more aggressive stance on the part of Michael Cohen," Jeanne Zaino, professor of political science at Iona College, told AFP when asked about the significance of the leak.
"It suggests he might be no longer on the president's side," agreed Julian Zelizer, professor of history and public affairs at Princeton University.
"Ultimately Michael Cohen seems to be a person who will be first and foremost concerned with protecting himself," Zelizer added.
On Wednesday, The Wall Street Journal reported on a deeper alliance forged between Cohen and American Media, which it said federal investigators were examining as part of the investigation into Cohen's business affairs.
"I think it's probably in his (Cohen's) interests to pursue some kind of deal. I can't imagine he wants to continue to pay high-priced lawyers," said Paul Beck, professor emeritus of political science at Ohio State University.
"The longer this is in the public eye the more damaging it is going to be for Republicans in the November (mid-term) elections," he told AFP.