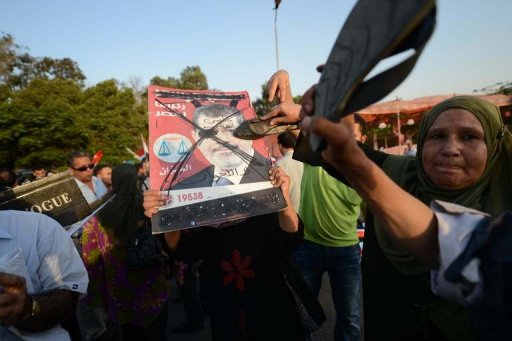 Leftist, liberal and revolutionary forces announced that they would stage a protest in Cairo on Friday against Muslim Brotherhood domination.
The protest was called for by Kamal Khalil, founder of the Revolutionary Socialists movement.
Brotherhood and Freedom and Justice Party members would be present at their headquarters to defend them against any assault attempts, Muslim Brotherhood Shura Council member Karem Radwan said.
Tagammu Party leader Saeed Abdel Aal said that the protest aims to unify leftist forces who are "the only forces that have an alternative project to 'Brotherhoodizing' the state."
Socialist Popular Alliance Party leader Abdel Ghaffar Shokr said the party would participate in the protest to reject Brotherhood control of state institutions and call for the release of political detainees.
National Assembly for Change spokesperson Ahmed Taha al-Naqr said the assembly would protest to call for legalizing the Brotherhood.
The Socialist Youth Union announced in a statement Thursday that it would take part in the protest to reject President Mohamed Morsy's policies and the control of a single movement over the state.
Some of the announced demands of Friday's protest are acceptable while others are not, Brotherhood leader Radwan told Al-Masry Al-Youm. The release of detained protesters is a popular demand that all support but talk about "Brotherhoodizing the state" is unacceptable and out of touch with reality, he added.
Mostafa al-Bardaweil, an FJP leader in Damietta, ruled out seeking police assistance to secure party offices.
"The Brothers do not oppose protests to express opinions as long as they do not disrupt the interests of people," Bardaweil said. He also asserted that claims that the Brotherhood controls the state are unrealistic.
"The Brothers and the Islamic forces have not acquired one percent of state positions, although they garnered 70 percent of the [previous] Parliament," he said.
Salafi Front spokesperson Khaled Saeed described the protest as a "vain call that is in vain," adding that it has no aim. He described former MP Mohamed Abou Hamed, who led calls for last Friday's protests against the Brotherhood, as the "Qadhafi of Egypt" who seeks to destroy the country and cause confusion.
Edited translation from Al-Masry Al-Youm