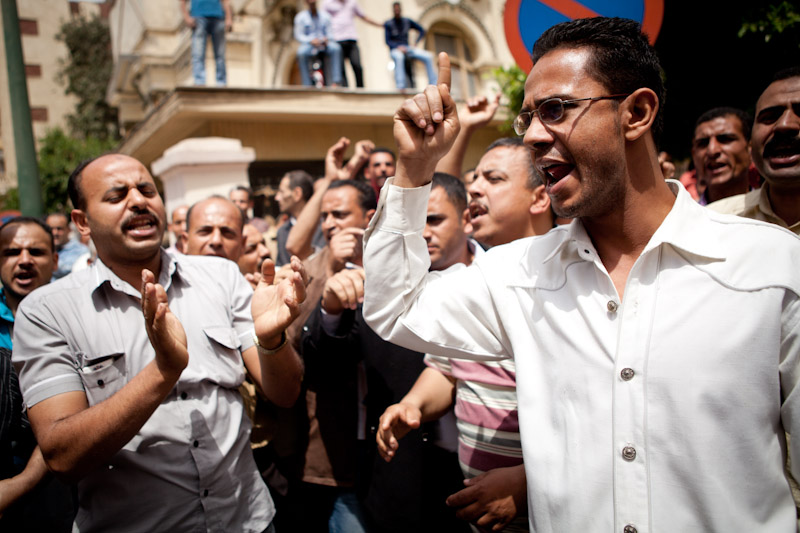 Just one day before Labor Day, the Interior Ministry is facing more internal dissent than any other government office. Two branches of the ministry — civilian employees and low-ranking police officers — have been waging protests and organizing press conferences since last week to demand better pay and an end to work discrimination compared to high-ranking officers.
Dozens of low-ranking policemen organized a protest on Monday in front of the Interior Ministry headquarters in Cairo, as part of their national strike that kicked off on Saturday.
The national strike is taking place in 17 governorates, where policemen have abstained from work in police stations and in securing the streets. Some have closed off the gates of the security directorates in Beheira and Daqahlia in Upper Egypt, according to Al-Masry Al-Youm.
The main demand by the policemen is to enforce the promotion system by which they can become high-ranking officersafter 20 years in service, which will be reflected in higher wages, said Taher Youssef, a low-ranking officer.
Youssef has been working in the ministry for 17 years. At the Monday protest, he told Egypt Independent that he earns LE1,200 as a full-time monthly wage.
Youssef and his fellow strikers complained to the ministry that they receive shoddy benefits compared to high-ranking officers.
"We can't use police hospitals unless we have a letter from the police officer supervising us. Why can police officers and their families get the best treatment in their hospitals while we can't?" asks Youssef.
Four policemen were injured after Central Security Forces attacked them in order to prevent them from protesting in front of the ministry building, but they were eventually let in, according to Gaber.
The protesters blamed their dire conditions on the corrupt top officers who belong to the old Mubarak regime.
"[The officers] are planning plots to stir instability in the country by tarnishing the ministry's image, since we have started to gain some credibility in the street after the revolution," said Ahmed Helal, a policeman at Azbakiya police station.
Protesting policemen also pleaded for the ministry to be controlled by civilians.
"We are against the militarization of the police, which means that we have to obey orders without questioning or thinking. We were not allowed to join the 25 January protests. We are a civil ministry according to the law," said Ahmed Gaber, a policeman from Beni Suef, at the protest.
The protesting officers also demanded they be allowed to grow their beards, though according to current police regulations this is prohibited. In the past weeks, a number of policemen who opted to grow their beards for their religious beliefs have raised a controversy at the Interior Ministry.
In response to these demands, Field Marshall Hussein Tantawi approved on Monday afternoon an amendment to the Police Authority Law including a better promotional system for policemen.
However, the strik