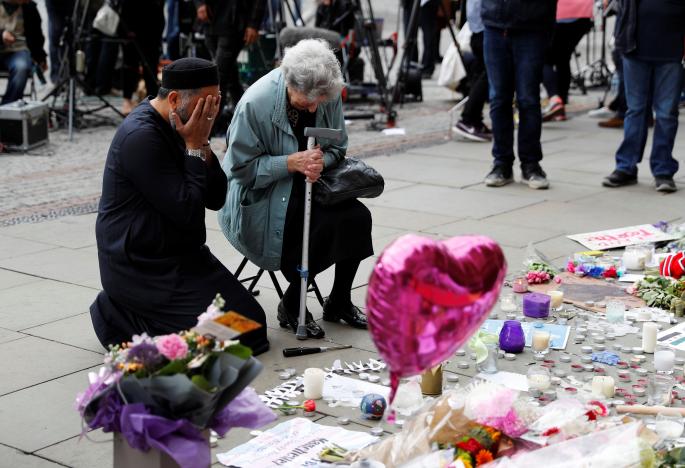 Members of Manchester suicide bomber Salman Abedi's network are still potentially at large, British interior minister Amber Rudd said on Sunday, after the terrorism threat level was lowered due to significant progress in the investigation.
Police have said they have arrested a large part of the network behind the bombing, which killed 22 people at a concert hall, and two more men were arrested on Saturday as police continued to close in on the group.
Asked during an interview on BBC television whether some of the group were still at large, Rudd said: "Potentially. It is an ongoing operation. There are 11 people in custody, the operation is still really at full tilt in a way."
Prime Minister Theresa May said developments in the investigation into the bombing meant intelligence experts had decided to lower the threat level from its highest rating "critical", meaning an attack could be imminent, to "severe".
Police have issued a photograph of Abedi, a 22-year-old Briton born to Libyan parents, taken on Monday night before he blew himself up and said they believed he had assembled his bomb in an apartment in the city center.
British officials have confirmed he had recently returned from Libya and the officers said police needed information about his movements from May 18 when he returned to Britain.
Abdedi was known to British security services before the bombing, the government has said, but Rudd declined to comment on exactly what had been known about him.
Media have reported that people who knew Abedi had raised concerns about him and his views as long ago as five years before he carried about Monday's attack.
"The intelligence services are still collecting information about him but I wouldn't rush to conclusions, as you seem to be, that they have somehow missed something," Rudd said.
"Top List" of Militants
When asked how many potential militants the government was worried about, Rudd said the security services were looking at 500 different potential plots, involving 3,000 people as a "top list", with a further 20,000 beneath that.
"That is all different layers, different tiers, it might be just a question mark about one of them or something serious with that top list," she said.
The government has previously complained that technology companies are not doing enough to tackle the use of their networks both to promote extremist ideology and for communication between militant suspects via encrypted messages.
Rudd said Britain was making good progress with internet firms on this but more could be done. Technology companies such as WhatsApp say they cannot break end-to-end encryption.
"I believe we can get them to be more successful in working with us to find a way of getting some of that information," she said.
"The area that I am most concerned about is the internet companies who are continuing to publish the hate publications, the hate material that is contributing to radicalising people in this country."
Security minister Ben Wallace also told the BBC that the government was looking at a range of options to put more pressure on internet firms to take down extremist material and change their algorithms to stop such posts from linking to similar material elsewhere online.
Reporting by Phil Nobel in Manchester; Writing by Kylie MacLellan in London; Editing by Alison Williams and Stephen Powell