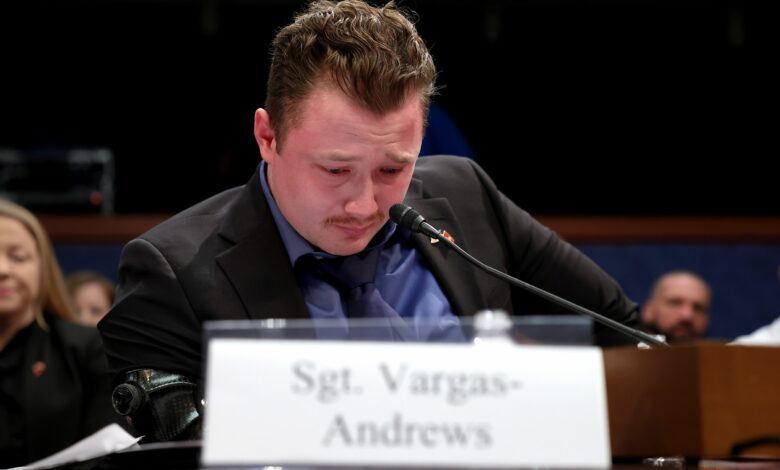 "A flash and a massive wave of pressure. I'm thrown 4 feet onto the ground but instantly knew what had happened. I opened my eyes to Marines dead or unconscious lying around me. A crowd of hundreds immediately vanished in front of me. And my body was catastrophically wounded with 100 to 150 ball bearings now in it," he recalled.
Vargas-Andrews, 25, offered emotional and detailed testimony of the days leading up to the bombing, which took the lives of 13 US service members and more than 100 Afghans, as part of a House Foreign Affairs Committee hearing on the evacuation from Afghanistan.
The Biden administration's frenzied withdrawal after two decades of US involvement in the war has come under immense scrutiny by Republican lawmakers, including the new chairman of the House Foreign Affairs Committee, Texas Rep. Michael McCaul, who has vowed to investigate the matter.
However, those accusations in Congress about who is responsible for the chaotic final weeks of the United States' presence in Afghanistan have fallen largely along party lines, with Republican lawmakers pointing fingers at the Biden administration and Democratic lawmakers casting blame on the Trump administration for the deal that set the US withdrawal into motion.
In a statement to CNN Wednesday, White House spokesperson for oversight Ian Sams also pointed to the deal President Joe Biden "inherited" from Trump and said the last administration "failed to establish an evacuation plan and slowed down processing of special visas for our Afghan allies."
"Instead of returning the U.S. to active combat with the Taliban and putting even more of our troops' lives at risk, President Biden made the tough decision to finally end the 20-year war in Afghanistan, bring our troops home, and safely evacuate tens upon tens of thousands of Americans and Afghan allies," Sams said. He added that the withdrawal put "the U.S. in a stronger position to lead the world and address the challenges of the future, while continuing to welcome our Afghan allies and maintaining our ability to deal with terrorist threats in the region."
Wednesday's hearing featured the testimonies of two service members who were on the ground in Afghanistan during those final weeks: Vargas-Andrews and US Army Specialist Aidan Gunderson. In addition, three people involved with groups who worked to evacuate Afghans – Francis Hoang from Allied Airlift 21, retired Lt. Col. David Scott Mann from Task Force Pineapple and Peter Lucier from Team America Relief – and immigration lawyer Camille Mackler, who worked to try to get the administration to begin relocating vulnerable Afghans well before the fall of Kabul, all served as witnesses.
'Catastrophe'
Vargas-Andrews described the withdrawal as a "catastrophe," telling lawmakers that "there was an inexcusable lack of accountability and negligence." He painted a picture of days of chaos and violence toward Afghans who were trying to flee the Taliban, described the US State Department as "not prepared to be at" the Kabul airport, claimed that threat warnings were disregarded by higher command on the day of the attack.
Vargas-Andrews described the horrific scenes he witnessed from his post at Abbey Gate at Hamid Karzai International Airport (HKIA), telling lawmakers that "Afghans were brutalized and tortured by the Taliban."
"Some Afghans turned away from HKIA tried to kill themselves on the razor wire in front of us that we used as a deterrent," he said. "Countless Afghans were murdered by the Taliban 155 yards in front of our position day and night."
"We communicated the atrocities to our chain of command and intel assets but nothing came of it," he said.
Vargas-Andrews said on the day of the August 26 suicide attack, he spotted a man in the crowd who fit the description of "a suicide bomber in the vicinity of and nearing Abbey Gate."
"Over the communication network we passed that there was a potential threat and an IED attack imminent. This was as serious as it could get," he said, noting that he asked for permission to shoot, but "our battalion commander said, and I quote, 'I don't know,' end quote."
"Myself and my team leader asked very harshly, 'Well, who does? Because this is your responsibility, sir.' He again replied he did not know but would find out. We received no update and never got our answer. Eventually the individual disappeared. To this day, we believe he was a suicide bomber," he said.
"Plain and simple, we were ignored. Our expertise was disregarded. No one was held accountable for our safety," he said.
'Those who ignore history are condemned to repeat it'
Beyond the suicide attack, witnesses spoke about the mental health toll that the botched evacuation has had on US veterans of the war in Afghanistan.
Mann, the retired lieutenant colonel, said he had a friend who took his own life, whose wife said "that the Afghan abandonment reactivated all the demons that he had managed to put behind him from hard time and Afghanistan together."
"And he just couldn't find his way out of the darkness of that moral injury," he said.
They also spoke broadly about their work to try to aid the Afghans who worked alongside US troops during the war, the "majority" of whom were left behind in the evacuation, and the need to continue to work to help them.
"I and thousands of others received frantic pleas for help from our Afghan allies whose lives were in peril," said Hoang from Allied Airlift 21. "Thousands of us guided tired and scared Afghan families through crowds and Taliban checkpoints. The weight of this work was crushing. We left jobs, drained savings, reopened old wounds."
"We looked in horror as our screens filled with images of violence and desperation outside the gates of Kabul airport. We wept as we listened to messages left by children pleading for our help. Nine times out of 10 our efforts failed. But every success was a family saved, a promise kept," he said.
"It is our turn to summon the courage to fill our commitment to the Afghan allies still left behind," Hoang said.
Mackler, the immigration lawyer, told lawmakers that "what happened in August of 2021 was the product of decades long of inaction and systemic failures that we can no longer ignore."
"To ensure that the actions we heard today were not in vain, we must use this moment to create and implement better solutions," she said, and called on Congress to take steps like passing the Afghan Adjustment Act.
"After all, as we've been told, those who ignore history are condemned to repeat it. We saw that in Afghanistan. We tried to learn the lessons from Vietnam and we were ignored, and we cannot allow a future generation to go through this as well," Mackler said.