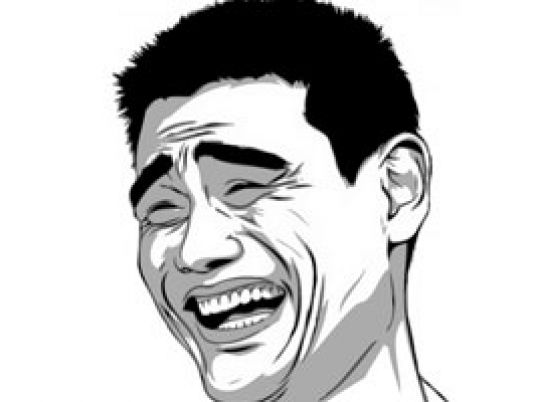 Originally triggered by a Facebook campaign, the uprising that ousted former president Hosni Mubarak coincided with a parallel meme revolution that, with new tools, provided a wider space for socio-political satire.
Facebook users have seen how quickly these humorous and repetitive images, dubbed "memes," which are often laced with political or pop-culture references, have copied and reproduced themselves all over the Internet.
Now, one does not have to be gifted with distinguished drawing skills to ridicule political and social phenomena or to, simply, quip about peculiarities of the Egyptian mindset. All what one might just need is minimal Photoshop know-how, a laughline and a cartoonized, laughing face of former NBA star Yao Ming, the most popular meme in the post-2011 sarcasm torrent. You can also suffice with a movie still coupled with a subtitle that carries your punchline.
But is the popularity, handiness and, most importantly, hilariousness of the new cartoonization tools a challenge to those of traditional caricatures?
"Caricature is a journalistic art, it carries the artist's signature, political opinion and puts a historical responsibility upon him for that opinion, compared to instant, photoshopped comics that are merely a quick punchline," said Amr Selim, a veteran Egyptian cartoonist at Al-Masry Al-Youm daily.
"Modern comics can not provide a standard of quality or reflect a viewpoint," argues Selim, who is known for his gradually-daring cartoons under former president Hosni Mubarak, and who later endured attacks for caricatures scathingly critical of Islamists under Mohamed Morsy.
Though he admits that social networks currently outstrip the press in reporting of news, Selim believes quick comics can not overcome "caricatures by real professionals in the press."
There is no point comparing the popularity of journalist caricatures with modernized comics, Selim argues. "It is not fair, for example, to compare a professional photojournalist with a Facebook cartoonist. Every sort of art has its audience."
Kareem Sami, an MBA masters student at London's Imperial College and the founder of
Egypt's Sarcasm Society
,
the website that first started the wave of meme comics, says the
online omnipresence of memes makes them easier to share, compared to caricatures' appearance in classic media like newspapers and magazines.
"Memes are easier to make compared to caricatures; to make a meme comic all you need is some creativity and basic knowledge of any software to make your idea come to life. For a caricature, you need to have drawing skills in addition to creativity," said Sami.
"So, yes, memes are increasing in popularity compared to the classic caricatures," Sami said.