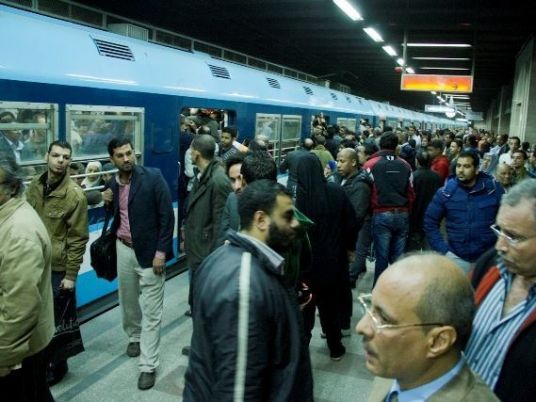 After a seven-month suspension, the Egyptian Company for Metro Management and Operation (ECMMO) received approval on Tuesday to reopen the Sadat Metro station as a transfer station only, company spokesman Ahmed Abdel Hady told Egypt Independent.
The interior minister's first assistant general Monier Al-Sayed issued a preliminary decision today after a meeting along with the head of ECMMO Ali Fadaly and other seniors, according to Abdel Hady.
"The company will be soon assigned to close the exits and entrances gates of Sadat station and put barriers around the tickets machines to prevent people from entering or exiting the station," Abdel Hady added.
The station is expected to be reopened at the beginning of May 2014.
ECMNO has temporary closed the metro stations Giza and Sadat following the dispersal of the sit-ins of Rabaa Al-Adweya and Al-Nahda after a decision issued by Interior Ministry for security purposes.
Security has been tight in the metro station ever since the political upheaval. As recent as Thursday, the ministry announced that two bombs had been found and diffused near the Helmeyet al-Zatoun stop.
Sadat is a pivotal station as it serves as one of three transfer stations between the first line, from Helwan to Marg, and the second, from Giza to Shubra. The other main transfer station is Shohadaa, where the Ramses train station is located. The third transfer station is in Attaba for the newer and shorter third line.
The closing of Sadat caused unprecedented overcrowding in Shohadaa, making sexual harassment much more frequent, according to I Saw Harassment, an anti-sexual harassment NGO. The group tried to put pressure on government officials to reopen to the station.